Hosting a Lab Tour? Here Are Some Planning Tips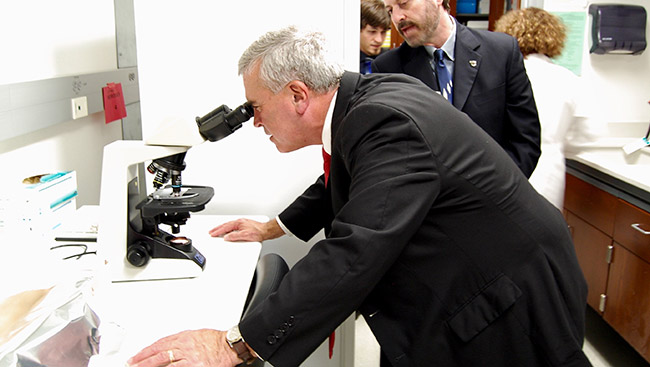 The following case study is adapted from a Theme J abstract (formerly Theme H) presented at Neuroscience 2015. Theme J abstracts cover topics related to history, teaching, public awareness, and societal impacts in neuroscience, allowing departments and organizations to showcase the work they have done in these areas.
Why Advocate?
As neuroscientists, it is critical for the future of our field that we help lawmakers understand the importance of scientific research to human health and economic development. Unfortunately, federally funded research dollars for the NIH and NSF, when adjusted for inflation, have actually decreased over the past decade. It is therefore becoming increasingly important for scientists to embrace new roles beyond the bench to explain why and how scientific research is important to legislators and the public.
Hosting a lab tour with a federal representative is one avenue to advocate the significance of scientific research, as I learned when I planned lab tour visits with congressional representatives in Cincinnati, Ohio.
Consider using the following planning timeline, tour structure, and follow up actions, which helped me facilitate scheduling and ensure that the legislators had a meaningful experience with neuroscience.
Planning Timeline
Advanced planning is necessary for a successful lab tour. As you get started, be sure to visit SfN's page on hosting a lab tour, watch this video on guided lab tours, and contact the SfN advocacy team at advocacy@sfn.org for further help coordinating logistics.
Six Months Away
Obtain approval from your PI, department, and/or institution if necessary.
Contact your institution's government relations office to find out their specifications and requirements for hosting a tour.
2-5 Months Away
Consider requesting an in-district meeting before inviting a representative for a lab tour. This can be helpful, but isn't necessary.
Send an official invitation on letterhead to your representative.
Follow up with an email invitation 2-3 weeks later.
Coordinate a time and date with congressional staffers for a tour — potentially during the August recess.
Meet with an aide or staffer if a representative is too busy. They will relay the information to your legislator.
One Month Away
Invite 2-3 institutional leaders and/or distinguished PIs to attend the visit.
Research the representative's interests and legislative committees.
Develop talking points and plan station stops or demonstrations.
One Week Away
Send a detailed agenda to attendees with locations, times, and key people involved.
Tour Structure
A well-constructed and thought-out lab tour will be well worth the effort. Consider these tips as you plan.
Be cognizant of everyone's time constraints.
Use understandable language to describe your research and methods, as most representatives do not have a scientific background.
Incorporate experimental demonstrations and visuals throughout the tour. For example, your representative could practice cutting a brain on a microtome or view slides in a microscope.
Allow for time after the tour for a roundtable discussion. Involving 2-3 administrators or distinguished PIs will provide different perspectives.
Share talking points on the importance of science funding for local economic development, human health, and scientific training.
Learn about the congressman's view on the importance of funding scientific and biomedical research.
Offer yourself as a resource for further consultation on scientific matters.
Follow Up
Science advocacy does not end with the conclusion of your lab tour. It's just one step towards fostering an ongoing relationship with your representative.
Send a follow-up email to the congressman and staffer(s) thanking them for their time and support.
Share photos, your story, and advocacy advice on blogs and social media.
Write a press release — including photos — to share with your institution and SfN.
Present an advocacy poster at a conference such as SfN's annual meeting or outreach event.
Remain up-to-date with legislation relating to science policy in the U.S. Congress.
Write to your representatives sharing your opinion on current bills.
Encourage other neuroscientists to incorporate advocacy and outreach into their professional activities.
A successful lab tour can help educate lawmakers about how understanding the brain impacts society and human health. Together, ongoing advocacy efforts can affect funding and policies that are critical for the future of neuroscience.