Module 4C: Supporting Resources for In Vivo Applications, Nuts and Bolts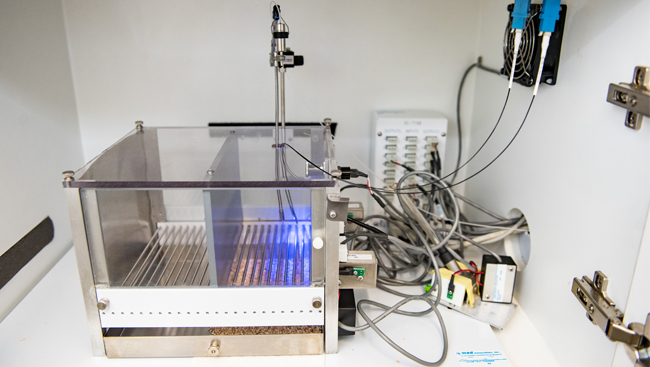 The resources below were selected by Lisa Gunaydin, D. Paola Calderon, and Aryn Gittis, faculty from Module 4 of SfN's Optogenetics Training Series. These resources supplement their presentations, In Vivo Applications of Optogenetics and Nuts and Bolts of In Vivo Optogenetic Experiments.
Use these resources to better understand appropriate applications and key concepts of designing and interpreting optogenetics experiments using in vivo preparations.
This platform covers choice of opsins, opsin expression, and hardware with a supporting bibliography.
Circuit-Breakers: Optical Technologies for Probing Neural Signals and Systems
This Zhang et al. 2007 review provides a basic overview of channelrhodopsin-2 and halorhodopsin for bidirectional control of neural activity.
Optogenetics in Neural Systems
Yizhar et al. offer a comprehensive review of optogenetic constructs, targeting approaches, and light delivery considerations for optogenetics experiments in vivo.
Natural Neural Projection Dynamics Underlying Social Behavior
Gunaydin et al. describe optogenetic manipulation of behavior with projection-specific targeting and showcase how optogenetics and imaging can be used in parallel to dissect endogenous and causal circuits underlying behavior.
Optetrode: A Multichannel Readout for Optogenetic Control in Freely Moving Mice
In this technical report from 2012, Anikeeva et al. describe a method for integrating optogenetic stimulation with electrophysiological recording to map functional connectivity in vivo.
Rehabilitating the Addicted Brain With Transcranial Magnetic Stimulation
Diana et al. review therapeutic applications of transcranial magnetic stimulation and potential translational relevance of optogenetic circuit dissection.
Construction of Implantable Optical Fibers for Long-Term Optogenetic Manipulation of Neural Circuits
In this Sparta et al. protocol from 2011, described is a method to construct implantable optical fibers with minimal tissue damage or change in light output over time. Implanted fibers readily interface with in vivo electrophysiological arrays or electrochemical detection electrodes.
Fiber-Optic Implantation for Chronic Optogenetic Stimulation of Brain Tissue
This 2012 Journal of Visualized Experiments (JoVE) protocol from Ung and Arenkiel describes the assembly and implantation of a fiber optic for chronic photostimulation of brain tissue.
In Vivo Optogenetic Stimulation of the Rodent Central Nervous System
This 2015 JOVE protocol from Sidor et al. offers a step-by-step guide to the design and set-up of laser systems and provides a full protocol for carrying out multiple and simultaneous in vivo optogenetic stimulations compatible with most rodent behavioral testing paradigms.
Optogenetics Resources from the Deisseroth Lab at Stanford University
This set of resources from the Deisseroth Lab includes information on viral vector sequence information and vector preparation, hardware for optogenetics experiments, and more than 100 relevant references.
---
Visit the Community forum for all eight modules to share your insights and best practices, ask questions, and engage with other training series' participants.
Complete this short survey to provide valuable feedback about Module 4 to SfN and the series faculty.