The Physiology of New and Old Neurons in the Dentate Gyrus
This an audio-only recording captured at Neuroscience 2018.
New neurons are continuously generated throughout life in the dentate gyrus. In her lab at the University of Alabama at Birmingham, Linda Overstreet-Wadiche studies the physiology of newly generated and existing cells in the dentate gyrus. More specifically, she investigates how various cell types, including newly generated neurons and GABAergic interneurons, contribute to the function of this unique brain region, as well as how neuronal connections are established and extinguished.
In this Meet the Expert, she shares considerations that influenced some of the most important decisions she made early in her career, like which grad school to attend, labs to do her rotations in, and PIs with whom to do her postdoctoral training. In addition, she recounts factors — including life events and novel findings — that went into the choices that would shape the trajectory of her research program.
Speaker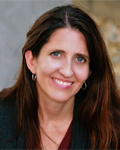 Linda Overstreet-Wadiche, PhD
Linda Overstreet-Wadiche is an associate professor in the department of neurobiology at the University of Alabama at Birmingham. Overstreet-Wadiche's main research interests lie in understanding the cellular and synaptic physiology of the dentate gyrus. She received her BS in biology from North Park University and her PhD in physiology from Northwestern University Medical School. She completed her postdoctoral training at the Vollum Institute.