Modeling Spinal Cord Development and Disease With Stem Cell-Derived Neurons
This an audio-only recording captured at Neuroscience 2018.
Stem cell-derived motor neurons provide a unique opportunity to study molecular processes controlling specification of neuronal identity and to probe pathological processes leading to neurodegeneration in patients with amyotrophic lateral sclerosis.
Hynek Wichterle, whose lab models and studies the development of the nervous system in vitro, will cover:
What it means to become a defined neuronal cell type in the central nervous system.
Findings that neuronal genes are controlled by distributed enhancers rather than super-enhancers.
Approaches to modeling neurodegenerative diseases including amyotrophic lateral sclerosis, a degenerative disease of spinal motor neurons.
Speaker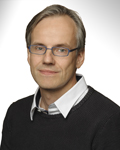 Hynek Wichterle, PhD
Hynek Wichterle is an associate professor in the departments of pathology and cell biology and of neuroscience at Columbia University Medical Center. He received his MS degree from Charles University, in Prague, and his PhD degree from The Rockefeller University, and completed postdoctoral training at Columbia University. He serves as co-director of the Columbia Stem Cell Initiative and as vice-chief of the division of regenerative medicine in the department of rehabilitation and regenerative medicine.