Your Chalk Talk Questions Answered
What goes into a successful chalk talk? Qiaojie Xiong, an assistant professor at Stony Brook University, answers based on her own experience going through the process.
In this video, she delivers a snapshot of her research plan to give you an idea of the structure, pacing, and tone.
Additionally, below, she answers common questions, such as how to structure your talk and ways to get feedback.
For more insights from faculty on how to prepare for and deliver an effective chalk talk, watch the related webinar, Demystifying the Academic Chalk Talk.
What is the purpose of a chalk talk?
Chalk talks show your ability to teach. This is especially important for public institutions where teaching undergrads is a big component.
What are the basic building blocks of a chalk talk?
A chalk talk should address two major components: a long-term and short-term goal.
Long-term goals should show your vision for the field by covering what you want your lab to accomplish in the next 10 years and clearly communicating how that will contribute to the field. The search committee will then gauge your goal's significance.
The short-term goal is usually one immediate project — broken into two or three aims — you want to initiate once you have your own lab.
How should you approach preparing for your chalk talk?
First, divide your experiment into three aims. Think through everything, from the big picture to the details of the experiment. For the big vision, address what you want to do and how important it is for advancing the field's understanding.
For the short-term goal, focus on one project, but be prepared to discuss two projects in case the search committee is interested.
Second, practice a lot. I practiced speaking while writing on a whiteboard or blackboard to get familiar with the chalk talk style.
The third step is very important: Get feedback.
Find the most critical colleague you can and do multiple practice rounds of your talk for them. Choose a colleague who will ask you sharp, critical questions. People often interrupt with questions during your talk, so you want to be prepared to handle those situations.
Do you have other advice for how people can handle questions throughout their talk?
You actually want questions because it helps you interact with the search committee and gives you a chance to elaborate on your message.
Try to pace yourself so people can think, understand, and raise thoughtful questions.
People with different research backgrounds may ask relevant or slightly off-target questions. That's why it's important to practice with your colleagues. Remember, you are the driver. You control the timing and progress of your talk. Answer questions, but always steer the answers back to your main point. It's a balance.
I once saw a chalk talk that ended after two hours at the second aim. That's not a good message to deliver to the committee, and it may not help them to fully understand your goal and appreciate how ready you are for the lab.
Can people expect immediate feedback on their talk? If candidates feel their talk didn't go well, is there anything they can do?
You will have a gut feeling of how well you did, but you don't typically get feedback from the committee right away.
In general, you get one chance to deliver your talk. However, if you can tell your talk wasn't great and you have a specific idea of what went wrong and can rationalize why, you can probably find a way to communicate that to the search committee or chair.
Can you describe your own experience delivering a chalk talk when you went through the hiring process at Stony Brook?
I had a great experience. It went smoother than I anticipated. All the questions were sharp, but delivered in a warm way. After I presented, I went for a second visit to meet more faculty in the department one-on-one. I could see from those meetings they understood what I delivered, and they were interested in my direction.
Do you have any last thoughts on chalk talks?
Think, practice, and get feedback. We're so used to giving PowerPoint presentations, but a chalk talk is a completely different feeling. Practicing the style of it and getting your colleagues' help is really important to effectively deliver your message.
Speaker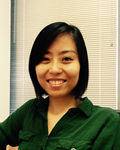 Qiaojie Xiong, PhD
Qiaojie Xiong is an assistant professor at Stony Brook University in the department of neurobiology and behavior. She received her undergraduate degree in biological science from the University of Science and Technology of China and her PhD in physiology from the Johns Hopkins University School of Medicine. Following that, she completed a postdoctoral fellowship in Cold Spring Harbor Laboratory. Her lab is focused on understanding how thalamostriatal and corticostriatal pathways are involved in auditory decision making.