Writing for Lay Readers: Let Your Reader Be Your Compass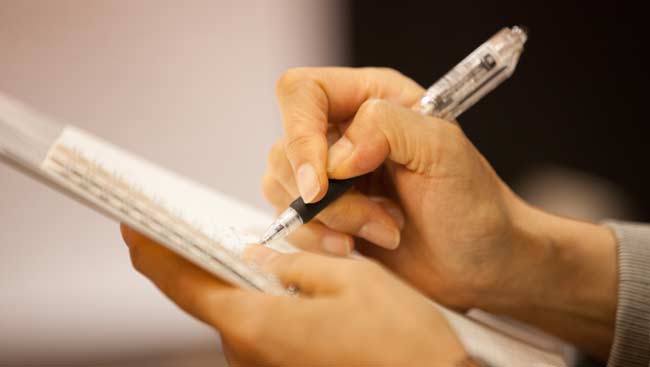 Your science affects society. So how can you get the public to understand and interact with the most important parts of your research? Through lay writing, or writing for a science-interested public, which makes the research you care about accessible.
Use these tools to communicate complex concepts in a clear, engaging way.
Choose Your Reader
Lay readers are interested in the brain for different reasons, including its role in health, longevity, child-rearing, decision-making, sports, war, and ethics. These topics provide good opportunities to convey some brain biology — just not in too much detail.
Get into a one-on-one frame of mind. Remove the word "audience" from your thinking.
Resist the temptation to imagine readers with multiple interests.
Remember, most importantly, that lay readers are leisure readers.
Form Your Idea
Pin down what has you excited enough to write about it, and make sure it aligns with what the reader you have in mind wants to know.
Decide on the best narrative to use.
Focus on how the main scientific point serves the reader.
Discuss your idea with a few lay people and any colleagues who have already written for lay readers.
Do a little homework: Look at back issues of the publication you have in mind or other lay books that may use a comparable approach.
Prepare an outline using sentences, not bullet points.
Allow yourself to pursue spontaneous thoughts while remembering that you'll need to get back to the main narrative.
Pay Attention to Language and Style
Context that's second nature to you may be unfamiliar to the reader. Use the tools of language and style to your advantage.
Avoid:
Vague or confusing language
Jargon
Crossover words
Passive voice
Negative construction
Remember to:
Keep the purpose of writing in mind.
Pause on scientific passages to ask "Is the context or some underlying fact everyday knowledge?"
Make word pictures, analogies, metaphors, and anecdotes.
Start with your interpretation.
Other Tips
Think about figures or illustrations after you're done writing. Editors will look at your text first. Visual elements can't clarify or substitute for unclear writing.
Use short sentences for subheads and chapter titles in longer pieces or book manuscripts. You can change them later to be more interesting.
Forget about footnotes for articles. The vast majority of endnotes should be lay accessible.
Have a few people read your draft.
Always revise.
Adapted from the presentation, "Writing for Lay Readers," by Jane Nevins, editor-in-chief emerita of Dana Press.