Why Is Community So Important? This Neuroscientist's Story Illuminates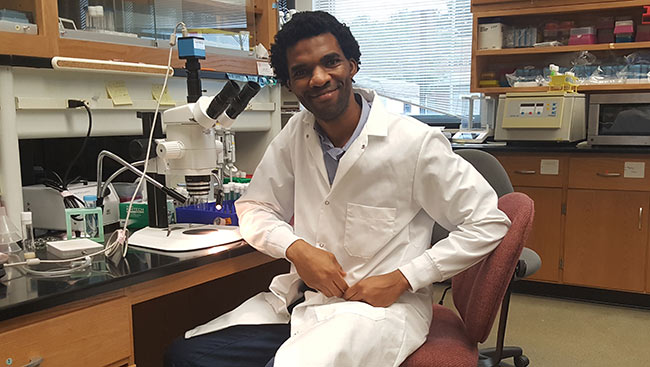 Throughout his training and beginning of his career, Hakeem Lawal, an assistant professor at Delaware State University (DSU), has transitioned from one country (Nigeria) to another (the United States) — and then across three different U.S. states. Here, he highlights his personal path and the global nature of science, along with the importance of mentoring, community, and service.
Tell us about your background and career path.
I was born in Nigeria. There, I did my undergrad, which focused on microbiology, at the University of Lagos.
I then started graduate training at the University of Alabama in molecular biology, which was a departure from my undergraduate in microbiology. This was during the days of the Human Genome Project, and this scientific breakthrough influenced my decision to switch to molecular and cell biology.
This chapter of my training, which lasted for about four and a half years, marked when I became a neuroscientist. My boss and graduate advisor, Janis O'Donnell studied the brain, but mostly from the perspective of biochemistry and hardcore molecular biology. But at some point, she started doing Parkinson's disease research, which I found really cool, so I joined the team.
After getting both my Master's and PhD, I moved to California to do my postdoc in psychiatry and bio-behavioral sciences with David Krantz for about five and a half years at the University of California, Los Angeles.
Then I started looking for faculty positions and did two cycles of interviews. The networks I developed through SfN by attending annual meetings and being part of the Neuroscience Scholars Program (NSP) were instrumental in helping me land a position. I ended up being recruited by DSU to be an assistant professor and I am now an active part of that relatively new and dynamic neuroscience program of about seven professors.
That's a lot of transitions. How did you acclimate to new environments?
The incredibly welcoming nature of the scientific community helped me. I also actively sought out friendly environments. Science is a truly global enterprise. We all speak the same language of science. For example, in my lab at Alabama, there were so many international students, as well as American-born students. There was an amazing diversity of all races, colors, and creeds. By the time I moved to California, I already had a community, which then grew by the time I got to DSU.
What is your day-to-day is like at DSU?
DSU is a historically black university catering to African American students, although now it's become more diverse. DSU is relatively small, with around 5,000 people who are predominantly undergraduates. We also have a number of graduate programs.
I enjoy a mix of doing very active research in my lab — which includes postdocs, graduate and undergraduate students — and mentoring and training undergraduates so they're at a level where they can succeed in their future careers. The breakdown is about 75 percent for research — I am fortunate to have a K01 NIH grant which enables maximum protected research time at my institution — and 25 percent for mentoring my undergrads, teaching classes, and attending service events on campus and in the community.
Can you describe your mentoring style?
My approach to working with undergrads is training them to be my partners. At the beginning, this requires a measure of responsibility and strength, but that's good because we're training them to have these skills.
I have always done one-on-one mentoring. I interview every student that comes into the lab. I outline what they'll be doing and ask them if what I described is what they want to do. Subsequently, they spend a semester where they essentially hang around the lab to observe how the research teams work, and come to lab meetings to help them figure out if they really want to be here or not. They also get trained on the techniques and the science. After this period, if they realize they don't want to be here, they can take off with the benefit of knowing that the experience is not for them. In the second semester, the students who stay have enough background, and they get their projects to start doing research.
I should also mention that Neuronline has mentoring resources that I've found very helpful, and I'd encourage people to take advantage of the site.
Do you take time for service activities at DSU?
Yes, my institution actually encourages us to serve, and it is a joy to do so. I'm on a number of committees. I serve on the university senate, part of a curriculum committee in the departmental level and at the college level, and the safety committee at the college level. My involvement with SfN programming and committees really set the trajectory for my service at DSU.
How do you participate with SfN?
As I mentioned, I was an NSP scholar from 2010 to 2013 when I was a postdoc at UCLA. My experience was a phenomenal one.
Through the program, I received travel support and was able to attend many conferences, including SfN's annual meeting. There was also a mentoring network, and I got paired with a mentor. There was a community where I met new colleagues and friends. Science can be overwhelming at times, so having this network to walk through challenges, such as identity issues, has been so great. The entire platform has really helped me.
In terms of volunteering, until last year I was a part of SfN's Professional Development Committee (PDC). I had the opportunity to look through the NSP application process and help recruit the next generation of NSP scholars. I worked with Julio Ramirez and Gina Poe as part of PDC's Diversity in Neuroscience Subcommittee. Currently I serve on SfN's Global Membership Committee.
Why do you make the time for service?
I want to pay it forward both at DSU and SfN. I should emphasize that I had such a great time in the NSP that I was always asking during my check-in, "What can I do? I want to join! I want to help out." Eventually, I was invited to join PDC. I was honored to have been invited, so making the time is so important to me. Also, now that I'm a mentor and run my own lab, being part of SfN's volunteer network has offered an amazing set of resources for me to use when training others.
*Photo provided by Hakeem Lawal.
Speaker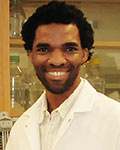 Hakeem Lawal, PhD
Hakeem Lawal is an assistant professor of neuroscience in the department of biological sciences at Delaware State University. His primary research interest is in using the model organism Drosophila to understand the molecular basis for neurodegenerative diseases, such as Parkinson's and Alzheimer's diseases, and developing suitable disease-modifying therapies. Lawal currently serves on SfN's Global Membership Committee and previously served on SfN's Professional Development Committee, and is an SfN Neuroscience Scholars Program alum. He received a BS in microbiology from the University of Lagos, an MS in molecular and cell biology from the University of Alabama, and a PhD in molecular and cell biology from the University of Alabama. He completed his postdoctoral training in psychiatry and biobehavioral sciences at the David Geffen School of Medicine at the University of California, Los Angeles.