Tried and True Tactics for a Productive SfN Meeting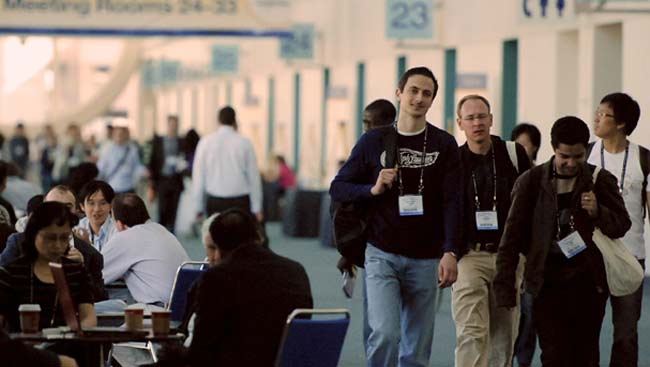 The SfN annual meeting has excellent opportunities to make meaningful connections and seek real-time information. Here are a few ways you can personalize your experience.
Find a meeting mentor from your network to help you navigate the meeting and develop an itinerary that meets your needs and interests.
Serve as a meeting mentor to help new attendees find their way.
Visit the Neurojobs Career Center before the meeting to set up interviews and seek career advice from employers at the onsite career center in Hall A. Employers can also purchase a job posting package to schedule interviews with potential candidates at the meeting.
Talk to representatives from numerous organizations and companies at the Exhibit Hall.
Network at the poster sessions. If you are interested in working at a particular company or lab, seek them out. You may find your next boss.
You should also attend professional development workshops (PDWs) for practical ways to take the next steps in your training. Whether you are switching fields or launching your career, there is a workshop for everyone.
Just a few of the PDWs offered this year include:
How Do I Fund My Science? Public and Private Funding Approaches for Supporting Your Neuroscience Research Across Career Stages and Types of Research
Tackling Challenges in Scientific Rigor: The (Sometimes) Messy Reality of Science
In addition to exploring the latest research discoveries and techniques at the annual meeting, also remember to focus some of your time on preparing for your future, using these tips as a guide.
Adapted from the SfN webinar, Creating Individual Development Plans Part 2: A How-To Guide.