Networking Tips for SfN's Annual Meeting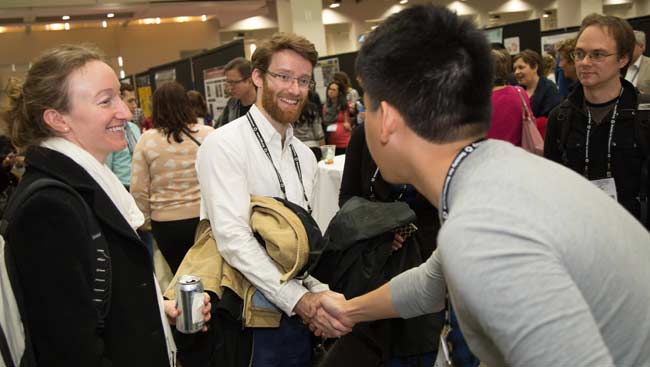 Don't be daunted by the size of SfN's annual meeting: reframe your thinking. More than 30,000 attendees means more than 30,000 opportunities to make connections. Maximize your interactions with these strategies.
Think of the annual meeting as a series of sub meetings.
Look for events that are smaller in size, like, Professional Development Workshops, the Meet-the-Expert Series or Short Courses which include a lunch and breakout sessions.
Attend SfN-sponsored socials and satellite events to interact with prominent scientists and attendees that share your areas of interest.

Be proactive in planning your scientific and social itinerary.
Make lunch or dinner reservations in advance. If you'd like to see a colleague, set the details and put it in your schedule ahead of time.
Read the abstracts before you arrive. If you identify authors with whom you want to discuss techniques or job opportunities, set up a time to meet with them beforehand, instead of dropping by their posters when they may be overwhelmed or unable to interact.
Remember to plan ahead, focus on your areas of interest, and make connections.
Adapted from the SfN Webinar, Networking: Building Bridges to Careers Outside Academia.