We negotiate throughout our professional and personal lives — with our superiors, colleagues, trainees, and friends and families. This session will focus on different negotiation styles, which is good in what situation, and how do we negotiate for success while avoiding the pitfalls of implicit biases (Schneider), as well as negotiation from a power differential, especially when you are in a low power position, and tips for making sure one remains true to high ethical standards in negotiation (Kray). Ahead of this session on January 24, participate in the Dynamic Negotiating Approach Diagnostic, a new tool to measure responses to conflict.
Speakers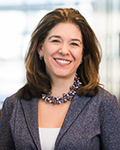 Andrea Schneider, JD
Andrea Kupfer Schneider is a professor of law at Marquette University Law School, where she has taught dispute resolution, negotiation, ethics, and international conflict resolution for over 20 years. She is the director of Marquette's nationally-ranked dispute resolution program. She frequently publishes law review articles and book chapters on negotiation, gender, international conflict, and dispute systems design and has co-authored several leading legal textbooks on ADR, negotiation, and mediation. Schneider is a founding editor of Indisputably, the blog for ADR law faculty, and started the Dispute Resolution Works-in-Progress Annual Conference in 2007. She was named 2009 Woman of the Year by the Wisconsin Law Journal and, in 2016, gave her first TEDx talk, "Women Don't Negotiate and Other Similar Nonsense." Schneider was named the 2017 recipient of the ABA Section of Dispute Resolution Award for Outstanding Scholarly Work. Her most recent book is Smart & Savvy: Negotiation Strategies in Academia. She regularly gives negotiation trainings for businesses and universities around the world. She received a BA cum laude from Princeton University and a JD cum laude from Harvard Law School.
Laura Kray, PhD
Laura Kray is the Warren E. and Carol Spieker Professor of Leadership at the Walter A. Haas School of Business at the University of California at Berkeley, where she has been on the faculty since 2002. Kray is an expert on the role of mindsets and gender stereotypes on workplace behavior, including negotiations, leadership, and ethical decision-making. Her work has been supported by NSF and has been recognized with multiple best research awards from the Academy of Management and International Association of Conflict Management. Her research has been featured in a wide range of media outlets, including Washington Post, New Yorker, National Public Radio, Harvard Business Review, New York Times, Financial Times, Slate, Forbes, Huffington Post, Daily Beast, Scientific American, Business Week, and Time.com. In 2008, she founded the Women's Executive Leadership Program of Berkeley Executive Education, and she has been the faculty director ever since. Currently, Kray is faculty director of Berkeley-Haas's Center for Equity, Gender, and Leadership. In 2018, she was elected a fellow at the Association for Psychological Science and the Society for Personality and Social Psychology. From 2017-2018, she was a fellow at the Center for Advanced Study in the Behavioral Sciences at Stanford University, where her project aims to debunk common myths about the gender pay gap.