Keynote Lecture - Implicit Bias in Academia
Neuroscientists study how the brain works, often focusing on one brain in isolation. However, much of our unconscious thinking and feeling unfold in social group contexts, influencing decisions about people's worth, goodness, and competence. In this talk, Professor Mahzarin Banaji, author of the bestseller, "Blindspot: Hidden Biases of Good People," will address the question of why well-intentioned people behave in ways that deviate from their own values and principles, and how this state of affairs compromises their decisions in a social context. The purpose of this keynote lecture is to reveal mental blind spots that can compromise professional and personal decisions if they are left unattended, and to begin a conversation about what might be done to allows us to lead the examined life to which we aspire.
Speaker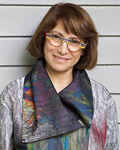 Mahzarin Banaji, PhD
Mahzarin R. Banaji is the Richard Clarke Cabot Professor of Social Ethics in the department of psychology at Harvard University. Banaji studies the disparities between conscious expressions of values, attitudes, and beliefs on the one hand, and less conscious, implicit representations of mental content on the other. Her work has emphasized the possibility that values and aspirations can be inconsistent with behavior. Her current research interests focus on the origins of social cognition and applications of implicit cognition to improve organizational practices. Banaji was born and raised in India. She received her PhD from Ohio State University and did postdoctoral work at the University of Washington.