Keynote Lecture - Implicit Bias in Neuroscience and Beyond
Sex effects in the brain are important to study and understand, but implicit gender assumptions can have a detrimental effect on research: from the questions asked (and not asked), to the interpretation of findings. This talk will discuss some common pitfalls and review psychological findings regarding belief in categorical, fixed, and deeply biologically-grounded behavioral differences between the sexes.
Speaker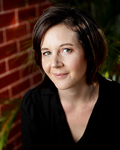 Cordelia Fine, PhD
Cordelia Fine is a professor in the history and philosophy of science program at the University of Melbourne. She is the author of A Mind of Its Own, Delusions of Gender, and Testosterone Rex, the latter winning the 2017 Royal Society Insight Investment Science Book Prize. Fine is also the recipient of the 2018 Edinburgh Medal, a prestigious award that recognizes scientists who have excelled in their field and contributed significantly to our understanding of humanity. She received the award for her work in challenging gender bias in science and for her contributions to public debates about gender equality. Fine earned her BA in experimental psychology from Oxford University, an MPhil in criminology from Cambridge University, and a PhD in psychology (based at the Institute of Cognitive Neuroscience) from University College London.