How to Choose Your Thesis Lab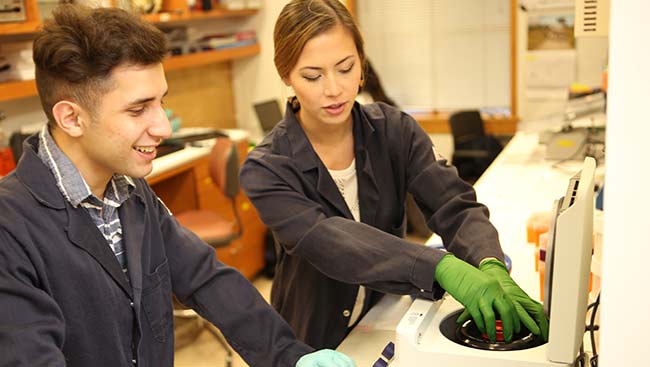 Choosing the laboratory in which you will do your thesis research is one of the most important and difficult decisions you will make in graduate school. I've previously discussed five questions to help you choose a rotation lab. Now, here are five additional questions to reflect on when choosing your thesis lab.
Is there a project in the lab that you want to pursue?
Although this may seem like the most important criteria, it often isn't. During their training, many graduate students find that they grow passionate about research questions that they didn't originally think they'd be interested in. Often, criteria like lab culture and an excellent mentor become more important during graduate school because learning to conduct rigorous science requires a great a deal of support. However, it's always a bonus when the lab and mentor you like are also studying a topic you find fascinating — and even better if they have an open research question that you'd like to tackle.
What's the lab dynamic like?
Every lab functions slightly differently. For example, some labs are extremely collaborative so that multiple people work on different aspects of a project under the direction of one member of the lab, whereas in other labs, members may only work on their own projects. Certain environments work for specific people, so make sure that the dynamic in the lab you are joining fits your work style. Also, some labs experiencing financial constraint or personnel turnover may present different challenges. It is best to consider these in your decision-making to ensure a smooth transition into the lab and efficient progress throughout your training.
Are you interested in the lab's research focus and main techniques?
Although many of us pursue a career in neuroscience for bigger picture goals — cure a disease, understand how the brain works — as a graduate student, you will spend most of your time troubleshooting small-scale experiments. So, make sure you enjoy (or at least have an interest in learning) the technique the lab specializes in because it's very likely that you will spend a lot of your time doing it. For example, if you feel uncomfortable working with rodents, then a lab that studies circuits in vivo may not be the right fit for you.
How available is your mentor?
PIs have their own mentoring styles. Some may sit down with you on your first day to develop an individualized training plan and then follow up on your progress weekly, whereas you may only see some PIs at a once-a-month lab meeting. Some graduate students succeed under more hands-on mentorship, while others may prefer a more hands-off mentor. Either way, remember that graduate training in neuroscience will involve a unique set of challenges and obstacles. Having a PI or other mentor who is well suited for you will be crucial to your success.
Do the lab members have the kind of work/life balance you want to have?
You will likely be attending graduate school during formative years in your life. Whether you're looking for a lab where you can work a shifted schedule or avoid working weekends, the culture of a lab will significantly influence your quality of life. For example, if you already have a family or are considering starting one, it may be helpful to join a lab where some members (or even the PI) are parents. Not only will they be understanding about parental emergencies, but they may also share childcare resources to make your life easier. Regardless of whether or not you have family commitments, joining a lab that complements your lifestyle will help you maintain your emotional and mental health.