From Start to Finish: NIH Peer Review
Feel in-control when applying for an NIH grant mechanism. Know how the peer review process works and what you can expect. In these videos, René Etcheberrigaray lays it all out for you.
Speaker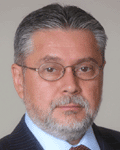 René Etcheberrigaray, MD
René Etcheberrigaray is the deputy director of NIH's Center for Scientific Review's brain disorders and clinical neuroscience integrated review group. Previously, Rene was an NIH Fogarty International Center postdoctoral fellow, studying ion channel physiology and molecular neurobiology in NIH's National Institute of Neurological Disorders and Stroke Intramural Lab. He has also studied potential therapeutic targets for Alzheimer's disease and the role of calcium regulation and amyloid processing in the pathogenesis of Alzheimer's disease.