An Undergraduate's Guide to the Annual Meeting
As an undergraduate and first-time annual meeting attendee at Neuroscience 2018, my biggest goal was to learn new aspects of neuroscience, especially outside the bounds of my research project. I also wanted to develop my professional and presentation skills and to become more comfortable navigating a national conference. The meeting was more than I hoped for. I came away with knowledge that enlightened aspects of my research, and I had the opportunity to grow as both a scientist and a presenter.
The best advice I could give undergrad attendees is to plan ahead, explore all of the sessions listed on SfN.org and in the Neuroscience Meeting Planner, and download the meeting app for your phone, which has helpful maps of the convention center. If you're giving any sort of presentation, I cannot overstate the importance of practice. You can't be too prepared.
In this guide to the annual meeting for undergraduate students and other first-time attendees, I outline what to do to prepare, share how I chose sessions to attend, recount surprises and what I learned from them, and offer advice for how to have a successful SfN annual meeting.
Before the Meeting
Book Housing
As soon as I found out my abstract was accepted (months before the meeting), I booked housing for the week. My lab decided to split an Airbnb, and it was a fun, economical way to get to know my lab mates better. My lab mates were friendly and respectful, which made this an easy decision, but for those who aren't comfortable share a space, I recommend finding a hotel as soon as possible.
Practice Presenting Your Poster
Next, I prepared a short introduction to my poster. I outlined points I wanted to emphasize in my presentation and practiced saying them out loud — first on my own, and then in front of others. Practicing in front of lab mates, friends, or family is the number one way to prepare for your poster presentation. It will help you feel truly comfortable talking about your research.
Explore Sessions
I investigated what sessions I might want to attend. I started by making a list of those I couldn't miss — my own poster session and my PI's poster session. As a Trainee Professional Development Award recipient, I was also required to attend my choice of two workshops from a handful, so I chose workshops that were the most fascinating. Next, I added events the I was interested in, ensuring they didn't cut into those I'd already listed. I also checked out SfN's curated itineraries and used the Neuroscience Meeting Planner to discover more events. I chose events that sounded interesting to me as a scientist, and events that could help with professional development.
Plan Your Outfits
As an undergrad, I had a few professional outfits, but not five days' worth, so I went hunting for budget-friendly clothing that was also comfortable. Upon attending the conference, I realized many wore more casual outfits, from a nice top and jeans to sweatpants and sneakers. Wear what makes you feel most comfortable, keeping in mind you'll want to dress professionally for your own poster presentation.
I broke in some shoes, too, to make sure I could comfortably walk around the conference all day. Every student attending a conference for the first time should find a pair of professional shoes that won't give you blisters.
Network
I reached out to other undergrads from my university who would be at the meeting. This can be an easy way to meet new people and to have friends to sit with during events. I joined a Facebook page specifically created for this purpose and made plans for the evenings. If your university doesn't already have an annual meeting group chat, start your own!
During the Meeting
Friday
My PI had a preconference session to attend on Friday, so I used this extra day to go to the grocery store. Eating out constantly can add up, so invest in some sandwich ingredients, snacks, and drinks. Every day, I packed my backpack with a notebook, a water bottle, and snacks.
Saturday
The first event I attended was the Dialogues Between Neuroscience and Society lecture, a discussion about music and neuroscience. I knew I wanted to attend this event because I am a musician myself, and the connection between music and the brain has always fascinated me.
Next, I attended a professional development workshop called How to Thrive as a Woman in Neuroscience. During this workshop, successful women in neuroscience answered questions from the audience. I chose to attend this workshop because as a young woman in STEM, I feel it's important to reflect on how far we've come and how far we have to go. Some advice I found particularly relevant was to be your own advocate and to advocate for others.
Finally, I attended the Trainee Professional Development Award poster session that evening, where I presented my poster. This was a great networking opportunity with other budding scientists.
An unexpected but important interaction came in the form of a visitor to my poster who was highly critical of my research. I remained unbothered while explaining my experiments and felt like a better presenter because of it. Don't be surprised if you get a scientist or two who is critical. This is a normal and important part of science. Disagreements between scientists have fueled many discoveries. The ability to remain calm, defend my work, and take criticism will serve me well in graduate school and beyond.
Sunday
My PI was presenting her research in the morning, so I attended her poster session and then walked around the exhibit floor. I got to explore a neuron using virtual reality and shake hands with a man who had a programmable, bionic arm. I also got to talk shop with a few companies my lab works with, and I picked up quite a bit of swag.
Afterwards, I attended a minisymposium called Telling Stories of Science, about how scientists can use their experiences to reach a greater audience and connect with nonscientists. I learned more about science communication, such as how to use personal experiences to get the word out about my research and the use of social media to inform the public.
From the late afternoon to early evening, I attended a presidential special lecture called Neurobiology of Social Behavior Circuits, where Catherine Dulac presented her work investigating how neural circuits influence social behavior. If you aren't sure what events to attend, the special lectures are a great place to start. They're interesting and offer a range of topics.
Monday
In the morning, I went to a workshop called Neuroscience: Emotion and Learning. The speakers, who included a researcher, a professor of computer science, and a medical doctor, discussed how to optimize learning outcomes of students through emotion in education. As a student who is constantly trying to improve her study habits, I found this session particularly relevant, and my PI found it relevant to the classes she teaches and her role as a mentor. A major takeaway for me was to remember that, despite how stressful courses can be, I truly do love to learn and am extremely lucky to dedicate my life to learning.
Next, I attended a lecture called Rapid Antidepressant Action: Synaptic Mechanisms and Clinical Aspects. The focus was on ketamine as an antidepressant. My research involves the use of ketamine as a treatment in a neurodegenerative disease, so I was particularly interested in learning more about other aspects of ketamine treatment.
I ended the day by attending a social put on by Neurolabware, a satellite event not affiliated with SfN, which took place away from the convention center. It was a wonderful way to meet other scientists in a more casual setting, and it allowed me to explore the city.
Tuesday
I started this day by checking out more posters on the exhibit floor. While I wish I'd spent more time searching the Neuroscience Meeting Planner for abstracts related to my work, I enjoyed wandering about and approaching any poster that caught my eye. I got to hear about a lot of cool research in areas about which I normally wouldn't learn.
I went to the Celebration of Women in Neuroscience Luncheon, during which outstanding female scientists were acknowledged, and a panel of successful female scientists discussed how to overcome barriers in STEM and make academia better for the next generation of scientists.
Wednesday
As this was the last day, we spent the morning packing up, but I also went to the exhibit floor to present my poster one last time. While my poster session was the last one of the last day, I received a good amount of traffic. I put my poster up a little early and was once again thankful I had spent so much time preparing my presentation.
Speaker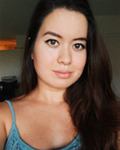 Ayumi Pottenger
Ayumi Pottenger is a graduate student in the molecular engineering program at the University of Washington. She worked in Helena Morrison's lab for two years during her undergraduate studies at the University of Arizona, studying the effects of a treatment for levodopa-induced dyskinesia (LID) in Parkinson's disease on microglia. She received SfN's Trainee Professional Development Award in 2018.