Advice to Underrepresented Trainees on Building Better Mentor/Mentee Relationships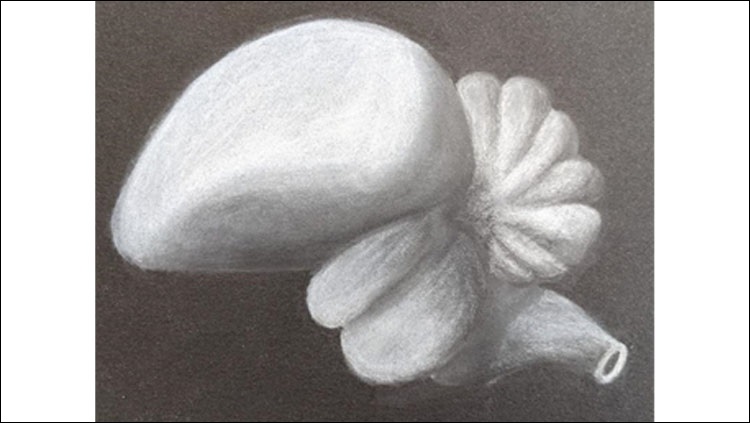 Bird brain (charcoal) drawn by Andrea Morgan
Attending graduate school as an underrepresented trainee can present a number of challenges. From unique backgrounds to culture shock, to literally not speaking the same language, a number of barriers can come into play when trying to build relationships. A strong mentor/mentee relationship is particularly important for trainees, but underrepresented trainees may have difficulty because of those barriers. I was able to find mentors and build these relationships, but I needed to understand a few things first in order to make that possible.
In my experience, underrepresented trainees who are hoping to build better relationships with their mentors should:
Be willing to communicate your unique needs.
Build your mentor village.
Understand the boundaries of each mentor/mentee relationship while accepting the lack of a "perfect mentor."
Be Willing to Communicate Your Unique Needs
When I decided to apply for graduate programs, my biggest fear was my academic background. How could the people reading my applications know that I was living in the most dangerous city in California at the time, or that there was a terrorist attack during finals week, or that I was distracted by my stomach growling in class? Would they know how sick I had been? Or how much I overcame just to get to the point where I could apply? And how could I say those things without sounding like I was making excuses for not getting As across the board?
I spoke with my mentors at the time, and they thanked me for being honest and offered to speak to those things in their letters of recommendation so that they did not have to come from me. Instead of coming across as whiny, I was praised for my resilience. If I had not spoken to them about my concerns, this need to have my unique background explained by someone who was not myself, I may not have received the offers that I received.
Build Your Mentor Village
When I started in the PhD program, I was very fortunate to have a woman of color mentor me while I rotated in a neighboring laboratory. As a Native American woman who also knew her share of hard times, she understood where I was coming from better than anyone else around me. I expressed my frustration, and she gave me advice that I will never forget − build your mentor village.
The idea of building a mentor village is similar to that of diversifying our portfolios; having multiple mentors advise us through multiple areas of our lives ensures that more of our bases are covered. This is particularly important because not all mentors interact with mentees in the same way.
Some mentors are more adept at assisting trainees who want careers off the bench, and others are more equipped to assist trainees who want to take a more traditional path. Some mentors understand how to use our backgrounds to our advantage in things like grant and fellowship applications, while others are experts at making sure our applications propose something logical, fundable, and exciting.
Some mentors are better at helping us incorporate talents like drawing into our work, while others are better when they stick to the science. Collecting a team of mentors who specialize in each of these pieces is critical for our success as underrepresented scientists.
Understand the Boundaries of Each Mentor/Mentee Relationship and Accept the Lack of a "Perfect Mentor."
Building better relationships with mentors requires experimenting, and not every experiment will end as we hoped. Some mentors are receptive to discussing personal issues and unique backgrounds, others are not. It is important to recognize the extent to which our mentors are willing to have those conversations. It is important to understand and respect the boundaries in each of those mentor/mentee relationships, because this is how we get the best out of our mentors.
It is reasonable to feel disappointed when a mentor lets us down in some capacity, especially for underrepresented trainees who feel immense gratitude and admiration for their mentors and want to connect on more personal issues. One way to deal with this disappointment is to learn to grieve the loss of the "perfect mentor."
The "perfect mentor" is our idea, and ideal, of who the perfect mentor should be. This is one person who does it all, and the mentor of our dreams. But no one person can do it all, and sometimes the disappointment can be hard-hitting.
Learning to grieve the loss of the "perfect mentor" means accepting that this person can never really exist, that this dream cannot possibly come true, and that this mentor who has let us down cannot be perfect. It is a way of letting go of the expectation of perfection and recognizing that our mentors are only human and may feel let down by us at times as well.
Although this advice does not guarantee successful or productive mentor/mentee relationships, my hope is that it will give trainees a place to start in strengthening relationships with those who contribute to the success of underrepresented scientists.

More in Professional Development