A Former NINDS Director Reflects on Her Career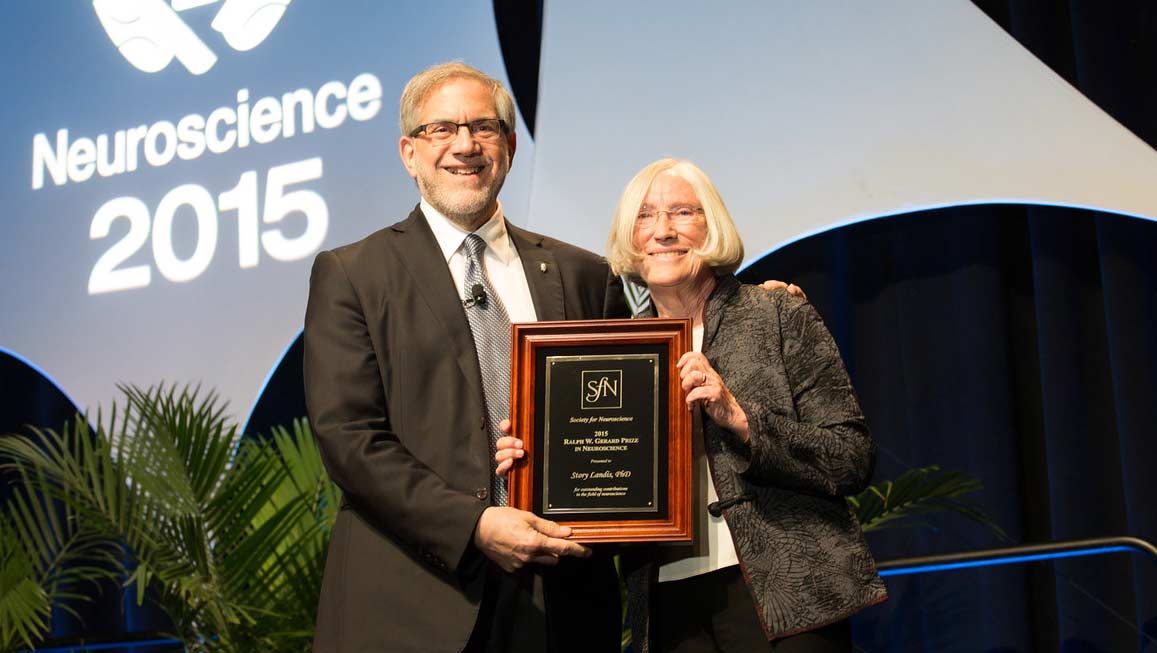 Story Landis, former director of the National Institute of Neurological Disease and Stroke (NINDS), has had an impact on neuroscience through her research on developmental neurotransmitter phenotype switching and leadership in academia and at NIH. Landis has championed critical science and public policy issues, diversity, and mentorship throughout her career. For her contributions to advancing the field, Landis received the Ralph W. Gerard Prize in Neuroscience in 2015. Here she reflects on the highlights of leading initiatives and critical conversations about funding, mentoring, and more.
You were at the forefront of building programs, introducing reforms, and launching initiatives, in academia and at NIH. What was leading those efforts like?

Leading these programs and initiatives was challenging but rewarding — and often fun. Several efforts focused on building a neuroscience community: creating the Department of Neuroscience at Case Western Reserve; bringing together neuroscientists from different NIH intramural institutes, starting with a website and seminar series and culminating in the Porter Neuroscience Research Center; and working with 16 institutes and centers to form the NIH Blueprint for Neuroscience Research, which funded large extramural projects like the Human Connectome Project.
Other projects focused on managing the National Institute of Neurological Disorders and Stroke (NINDS) budget. I became NINDS director during the last month of the last year of the NIH budget doubling. The budget constraints that followed meant that we had to review major initiatives created before and during the doubling to determine whether or not they should continue. This required careful analyses of outcomes and difficult decisions, but it was essential to maintain the payline and start new initiatives.
There were several important strategies required for success: making sure that as many people as possible understood the goals and could provide input, listening, being willing to adjust our plans, and providing resources from NINDS for the joint ventures.
As you advanced these initiatives, what was the "bigger picture" goal you were striving for?

The goal was to foster neuroscience and improve the way it was done. For example, creating a neuroscience community facilitated interactions and collaborations that broadly promoted the field. Analyzing the science being done in the intramural program and supported by the extramural portfolio ensured the NINDS budget funded as much of the best and most promising science as possible. We made major changes in our diversity and improved translational and clinical trials efforts by redirecting funds to the best programs.
You've been vocal about the importance of funding basic research in addition to clinical and translational research. How do you see this conversation developing over the next 5-10 years?

While I was NINDS director, we discovered that the proportion of our budget that supported fundamental neuroscience decreased by half from 1997 to 2012. A major contributor to the decrease was a decline in the number of submitted fundamental applications.
There are many good reasons for investigators to focus their efforts on disease-related research, such as new opportunities provided by gene discovery, better tools, the desire to explain disease mechanisms, and the potential to devise better treatments. Investigators may have believed that they are more likely to receive funding if their research has translational potential — a belief often reinforced by negative comments in study section reviews about the lack of translational relevance.
While investigators may have been uncertain about the commitment to supporting fundamental science, the NIH mission statement clearly articulates its importance as one of two goals: "to seek fundamental knowledge about the nature and behavior of living systems and the application of that knowledge to enhance health, lengthen life, and reduce illness and disability."
Dr. Francis Collins, NIH director, has consistently emphasized the importance of fundamental science, and NIH has made a number of changes to underscore its support for basic science. Most recently, the instructions for the public health relevance statement in grant applications make it explicit that contributions to fundamental knowledge are just as important as their applications.
A well balanced research portfolio that spans from the most fundamental exploration of neural function to Phase III Clinical Trials is essential to progress in understanding brain function in health and disease. I am sure that we can and will achieve an appropriate balance.
Why was mentoring neuroscientists at the early stages of their careers so important to you?

New faculty who are just starting their independent programs, postdoctoral fellows, and graduate students are the future of neuroscience, and it is critical that we do as much as we can to support them. It's much more challenging for young scientists today than when I trained. When I speak to students, fellows, or junior faculty, the first question they most often ask is, "Will there be a seat for me at the table?"
I was incredibly fortunate to have had excellent mentors throughout my career who trained me and promoted my career development. One of the most interesting aspects of mentorship is that you'll continue to have mentors throughout your career. For example, during my time at NIH, Zach Hall, Gerry Fischbach, and Elias Zerhouni provided me with interesting challenges and offered counsel on how to address them.
Looking back on your career, what accomplishments are you most proud of in the lab, and at NIH?

The major goal of my research was to understand how neurons acquire the appropriate complement of neurotransmitters during development. The obvious question was whether this was a tissue culture artifact or reflected normal development. To address this, my laboratory looked at the development of cholinergic sympathetic neurons that innervate sweat glands. We found that they initially were noradrenergic and became cholinergic, and that this change was induced by interactions with sweat glands. The development of cholinergic function was required for the sweat glands to acquire secretory competence. Thus, reciprocal interactions between these neurons and their target tissue were required to establish a functional synapse. We also explored neurotrophin responsiveness of sympathetic neurons, and found that p75 influences the neurotrophin responsiveness of TrkA and therefore the survival of sympathetic neurons. I had great students and postdocs, and I am proud of what they did in my laboratory and what they've done since.
I was at NINDS for 19 years. I led the revitalization of the NINDS intramural program and oversaw the creation of the Porter Neuroscience Research Center Building. I participated in the creation of the K99/R00 Award and a special payline for early stage investigators, worked on NIH guidelines on funding human embryonic stem cells and their implementation, co-directed the NIH BluePrint for Neuroscience Research, and saw the launch of the BRAIN initiative. I was privileged to recruit excellent scientists to NINDS and to work with wonderful colleagues at many other institutes.
Speaker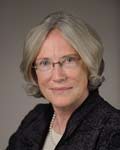 Story Landis, PhD
Story Landis attended Wellesley College and obtained her PhD in biology from Harvard University. After postdoctoral study at Harvard Medical School, she joined the faculty there. She moved to the School of Medicine at Case Western Reserve University and there eventually became the first chairman of the department of neuroscience. She joined the NINDS as a scientific director in 1996, and became director of that institute in 2004. She has retired from NIH, but continues to contribute to a variety of national forums.