2018's Top Scientific and Career Planning Resources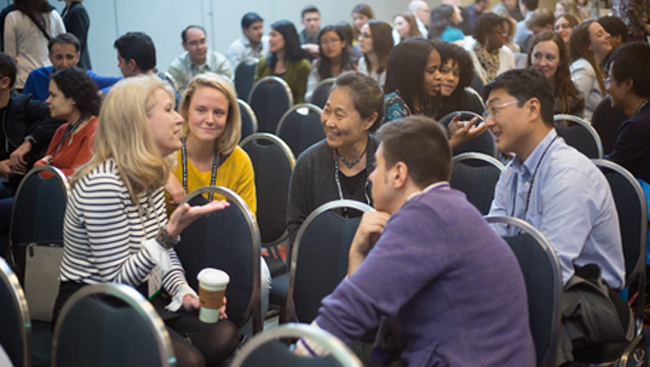 As you reflect on your accomplishments this year and think about the year ahead, take time to explore the most popular interviews, articles, and toolkits published on Neuronline in 2018. They may help you stay on top of scientific findings or inspire your next career move.
1. Career Skills Toolkit: From PhD to Postdoc
Finding the right postdoc is crucial. Download this toolkit to help you develop relevant transferable skills, network with potential mentors, and negotiate.
2. What You Should Know About Pharma and Biotech Jobs
Learn about the types of positions available to neuroscientists in industry and how to be a competitive candidate from Khan Ozol, the global head of talent scouting at Novartis.
3. Does It Take Effort For Bilingual Speakers to Switch Between Languages? It Depends
A JNeurosci study found voluntarily switching languages doesn't require any more executive control than continuing to speak the same one. Read the research summary by Esti Blanco-Elorrieta, a PhD student at New York University, to learn more.
4. How to Choose a Grad School (and Decide When to Start)
If you're nearing the end of your undergraduate career, you may be wondering what's next. Explore this list of commonly asked questions from undergraduates, answered by Amy Jo Stavnezer, a professor at the College of Wooster.
5. Your Chalk Talk Questions Answered
See this chalk talk video demonstration featuring Qiaojie Xiong, an assistant professor at Stony Brook University. Then, read her advice for how to structure your own.
6. How Can Synaptic Axon Terminals Adapt to Altered Metabolic Demand?
Read this summary of a study published in eNeuro by Csaba Cserép, a postdoc at the Hungarian Academy of Sciences, describing the — so far unrecognized — structural basis of an adaptation mechanism that is likely responsible for local demand matching.
7. The Lasting Impacts of Postdocs Abroad
Tenured researcher Fatuel Tecuapetla from the National Autonomous University of Mexico still incorporates what he learned abroad into his lab. Read how he decided to do a second postdoc abroad, ways he grew as a scientist, and his advice for young researchers.
8. Insights to Make Smart Career Transitions
Watch this video for practical advice on changing direction, featuring Kip Ludwig, an associate professor at the University of Wisconsin-Madison. He's steered his own career through academia, industry, and government.
9. Understanding the Scientific Mechanisms of Drug Addiction
Explore the award-winning work of Karen Ersche, an associate professor at the University of Cambridge. Her findings may illuminate the neurochemical process underlying addictive behavior and have an impact on future therapies for addiction.
10. How to Advocate for Yourself
Hear from Magda Giordano, a professor and department chair at the National University of Mexico, as she shares advice for showcasing your achievements and reflects on how she learned to speak up for herself.