2015 NSP Mentoring Breakfast
Each year the Neuroscience Scholars Program identifies a researcher to share reflections on the challenges, joys, and opportunities of a neuroscience career.
Access to the full article is available to SfN members.
Neuronline is a benefit of SfN membership. Renew your membership now to make sure you don't lose access.
Speaker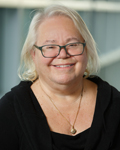 Eve Marder, PhD
Eve Marder is the Victor and Gwendolyn Beinfield Professor of Neuroscience at Brandeis University. She received her PhD in 1974 from the University of California, San Diego, and did postdoctoral studies at the University of Oregon and the École Normale Supérieure, in Paris. Marder is a past president of SfN, a counselor of the National Academy of Sciences (NAS), and member of the National Academy of Medicine and the American Academy of Arts and Sciences. She has received numerous prizes and awards, including SfN's Ralph W. Gerard Prize and Mika Salpeter Lifetime Achievement Award, the Gruber Prize, the Kavli Prize, and the NAS Award in the Neurosciences. She has received honorary doctorates from Bowdoin College and Tel Aviv University. Marder studies the dynamics of small neuronal networks. Her work was instrumental in demonstrating neuronal circuits are not "hard-wired" but are reconfigured by neuromodulatory neurons and substances to produce a variety of outputs. Her lab combines experimental work with insights from modeling and theoretical studies. It pioneered studies of homeostatic regulation of intrinsic membrane properties and stimulated work on the mechanisms by which brains remain stable while allowing for change during development and learning. Marder's current work focuses on the robustness of circuits to perturbation.