Raising Brain Awareness With Pipe Cleaners, Pens, and Paper
Bill Griesar and Jeff Leake, cofounders of the neuroscience outreach nonprofit NW Noggin, in Portland, Oregon and Vancouver, Washington, share examples of how their undergraduate and graduate student volunteers use art to connect with youth in their community.
Through art, which encourages self-expression and problem solving in different ways, NW Noggin helps kids see how neuroscience relates to their lives — and shows them how they can pursue a career in neuroscience.
"When young people see near-peers to them studying sleep or anxiety and the brain, it suddenly makes the things that are going on in the classroom much more relevant. It helps them understand how research on the brain relates to their experience and that they can do what those people are doing," Griesar says.
Watch this recording from the Brain Awareness Campaign Event at Neuroscience 2018 for ideas on how to initiate outreach in creative places and through strategic partnerships to share neuroscience with your community.
Speakers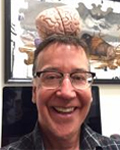 Bill Griesar, PhD
Bill Griesar is a senior psychology instructor at Portland State University, and a cofounder and the neuroscience coordinator of NW Noggin, an art and neuroscience outreach nonprofit based in Portland, Oregon. He's also an adjunct instructor in university studies at Portland State University, and affiliate graduate faculty in behavioral neuroscience at Oregon Health and Science University (OHSU). Bill earned his BS in neuroscience at Brown University, where he studied visual perception, and his PhD in behavioral neuroscience at OHSU, where he explored the cognitive effects of nicotine in nonsmokers. He has developed and taught neuroscience courses at Portland State University, OHSU, Portland Community College, Clark College, Washington State University in Vancouver, and Lower Columbia College since 2001. Additionally, he's been recognized as an innovator by the Obama White House and has won numerous teaching awards.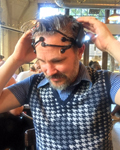 Jeff Leake
Jeff Leake is a cofounder and the president and arts coordinator of NW Noggin, an art and neuroscience outreach nonprofit based in Portland, Oregon. He also teaches in the psychology and university studies departments at Portland State University, where he works with Bill Griesar, fellow NW Noggin founder, to teach art and neuroscience there, around the Portland area, and beyond. As part of NW Noggin he has traveled throughout the United States teaching neuroscience through art, including by giving lectures on art and drugs for Science On Tap, the Portland Art Museum, and the Oregon Art Education Association. He holds a BFA from the San Francisco Art Institute and an MFA from UC Davis. You can see his work at jeffleakeart.com.