My Tips for a High Impact Chapter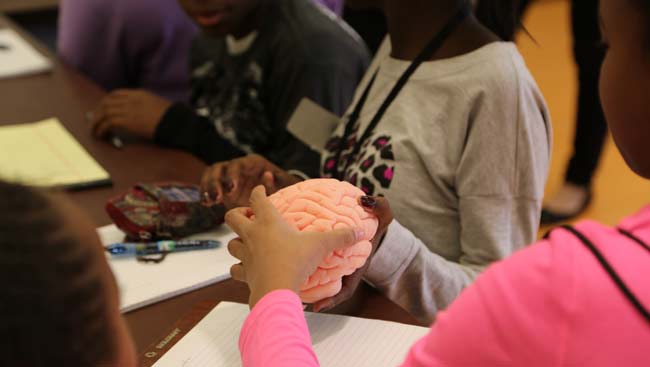 I'm part of the Greater New York City Chapter of SfN (braiNY), which brings together like-minded neuroscience organizations to better neuroscience education and outreach. Over the years, we have seen steady growth and increased reach. Here are three things we do to impact our audiences.
Communicate With the Public
BraiNY engages the public and opens a two-way conversation by:
Distributing an annual newsletter.
Maintaining comebebrainy.com, which has received over 10,000 hits from more than 70 countries.
Sending email blasts with news and events.
Conducting surveys for recruitment and feedback.
Providing an email address for the public to communicate directly with our chapter.
Sharing resources, such as lesson plans, through Dropbox.
Posting videos, such as this neuroscience discussion used to kick off Brain Awareness Week with two SfN past-presidents.
Tracking analytics to find out what's working and where we should improve our efforts.
Recruit Volunteers
Volunteers are the heart of what we do. We encourage them to create outreach events around their interests. Volunteers' enthusiasm propels the events and you can see their passion spread to the audience.
To reach a broader audience, we recruit volunteers with diverse backgrounds both within and outside of academic roles, including neuroscientists in the pharmaceutical industry, consulting, and legal firms. Our volunteers are at all levels in their careers and even include past presidents from the Society for Neuroscience.
Seek Resources
If you're looking for funding or partnerships, maximize available resources by:
Applying for SfN chapter grants.
Seeking out private donations and sponsorships within your community for specific events.
Sharing resources with institutions, organizations, and foundations who support similar outreach programs.
Engaging public officials at all levels to get them involved and understand what we do for research and public education.
Forming partnerships with other chapters to network, share experiences, and give and receive advice.
Adapted from the webinar, Outreach: Supporting Your Career, Supporting Your Field.