How Building Community Can Help Your Science and Career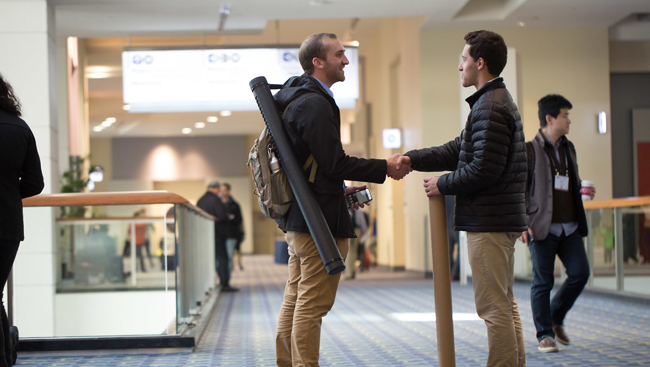 Mychael Lourenco, a research associate at the Federal University of Rio de Janeiro and member of SfN's Trainee Advisory Committee (TAC), shares what first interested him in neuroscience, why community building is important to him, and how he's leveraged his connections for research collaborations.
First, how did you get started in neuroscience?
I'm from Brazil, and I live and work here. I have always been interested in science. My mother is an engineer and an academic, which may have led to my initial interest.
I studied biology and specialized in genetics for my Bachelor's degree, and, during that time, I became very interested in neuroscience, particularly in neurobiology of disease.
As an undergraduate trainee, I first trained in models of Parkinson's disease. Then I found an interesting lab working in Alzheimer's disease and decided to join them, first for an undergraduate position and then for my PhD. During the past nine years, I've been studying what happens in the brain to cause memory loss in Alzheimer's disease.
During my PhD, I had the opportunity to establish a collaboration in New York City at Columbia University. I went back and forth between Brazil and the United States to do experiments.
Now I am a research associate at the Federal University of Rio de Janeiro.
I've been an SfN member since 2010. By the end of my PhD, I was glad to join TAC as a volunteer. I knew Sofia Jurgensen, who at the time chaired TAC, because she did her PhD in my lab when I was an undergrad. I exchanged a few emails with her and went through the process.
I've met extraordinary people at TAC meetings, including Bianca Jones Marlin and Alexandra Colon-Rodriguez, young scientists, just like myself, who are eager to bring advances to the field and improve professional development for junior scientists.
If you are interested in getting more involved with SfN, please contact us and/or apply to volunteer.
Access to the full article is available to SfN members.
Neuronline is a benefit of SfN membership. Renew your membership now to make sure you don't lose access.
Speaker
Mychael Lourenco, PhD
Mychael Lourenco is a research associate at the Federal University of Rio de Janeiro, Brazil. He received his BS in Genetics and concluded his PhD in biochemistry and neuroscience at the Federal University of Rio de Janeiro. He conducts research in cellular and molecular neuroscience, with an emphasis on molecular mechanisms underlying memory failure in Alzheimer's disease. His work has demonstrated novel pathways of neurotoxicity and neuroprotection in mouse models of neurodegeneration. Lourenco has been an SfN member since 2010 and is currently a member of the Trainee Advisory Committee (2016-2019) and of the Online Program Steering Committee (2017-2021).