Affirmative Attention: Advancing Science Through Diversity
During the Preparing the Next Generation of Neuroscience Leaders conference, speakers on this panel present data on the scientific workforce, discuss how diversity strengthens science, and provide examples of what individuals at institutions can do to ensure that diversity is prioritized at all levels.
Opening remarks by Eric Nestler, MD, PhD, President, Society for Neuroscience.
Speakers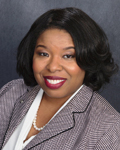 Michelle D. Jones-London, PhD
Michelle D. Jones-London serves as chief of the Office of Programs to Enhance Neuroscience Workforce Diversity (OPEN-WD). In this position, Jones-London plays a critical role in guiding the Institute's diversity efforts and chairs the NINDS Diversity Working Group. Jones-London is also a program director at NINDS. She earned her PhD in neuroscience from the department of neuroscience and anatomy at Pennsylvania State University College of Medicine. Her research interests have focused on understanding monoaminergic neurotransmitter regulation and mechanisms of behavioral psychopharmacology in animal models of disorders such as ADHD, Tourette Syndrome, and depression. Her trans-NIH efforts include oversight for the NIH Blueprint ENDURE and DSPAN (F99/K00) programs and the BRAIN Initiative Diversity K99/R00.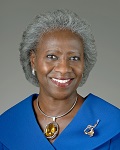 Hannah Valantine, MD, MRCP, FACC
Hannah Valantine is the first NIH chief officer for scientific workforce diversity, and a senior investigator in the intramural research program at the National Heart, Lung, and Blood Institute. Prior to starting this position in April 2014, Valantine was professor of cardiovascular medicine and the senior associate dean for diversity and leadership at Stanford, a leadership position she held since November 2004. She is nationally recognized for her transformative approaches to diversity and is a recipient of the NIH Director's Pathfinder Award for Diversity in the Scientific Workforce. She is currently leading NIH efforts to promote diversity through innovation across the NIH-funded biomedical workforce through a range of evidence-based approaches. Valantine maintains an active clinical research program that continues to have high impact on patient care. Current research extends her previous finding that an organ transplant is essentially a genome transplant, and that monitoring the level of donor DNA in a recipient's blood as a marker of organ damage will detect early stages of rejection. She is currently overseeing a multi-site consortium of mid-Atlantic transplant centers to validate these findings clinically toward the development of a non-invasive tool for detecting early signs of organ rejection.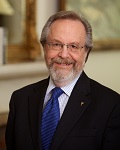 Thomas J. Carew, PhD
Thomas J. Carew is the Anne and Joel Ehrenkranz Dean of the Faculty of Arts and Science at New York University. He was previously the Bren Professor and Chair of the department of neurobiology and behavior at the University of California, Irvine, where he also served as chair of the Task Force on Undergraduate Education and as a member of the system-wide Commission on Undergraduate Education. Carew previously held leadership roles at Yale University and Columbia University. During his tenure as dean, he has placed a high priority on the fostering of broader diversity, equity, and inclusion at the faculty, student, and staff levels. Consistent with these goals, he has led a team that developed a faculty hiring toolkit, focusing attention on diversifying the pool of applicants and hiring more diverse faculty. This toolkit has now been utilized with great success by Arts and Science and other schools at NYU. He has also spearheaded the creation of fellowships and scholarships, research programs, and conferences to provide students from underrepresented or underserved backgrounds with inclusive opportunities for learning and advancement in their chosen fields. He earned a BA from Loyola University, an MA in physiological psychology from California State College, and a PhD in physiological psychology from the University of California, Riverside.