Science Policy Careers: The Difference Neuroscientists Can Make
Julianne McCall was a science policy consultant with the California Senate Office of Research for two years. In that role, she provided broad support to state senators in crafting legislation, including by liaising with academic and independent researchers to further evidence-based policymaking. Drawing on her background in neuroscience, she applies a scientific approach to the legislative process to inform science and health policy. Here she shares why it's important for scientists to consider roles in policy, how scientific outreach inspires her work, and ways to be competitive in this career path.
What value do neuroscientists offer to the policy making process?
A scientific approach creates quality legislation by adding a critical filter to analyses and by contributing to a general regard that conclusions must be backed up independently.
A Senator in the state of California represents nearly one million constituents and votes on more than 5,000 bills every two-year cycle. In such a fast-paced environment, legislators rely on a system of information delivery that takes the form of timely, packaged ideas gleaned from news articles, the legislator's own staff or personal network, advocacy groups, think tanks, and lobbyists.
Lobbying firms, considered the "Third House" of the legislative branch, hold particular power because they have the means to constantly present information to decision-makers and their staff at the right time, with clear context and vision, and with a sophisticated strategy for enacting legislation.
Government plays a role in creating the conditions necessary for scientific progress, primarily via public funding and patterns of regulation. However, scientific progress needs scientists at each step of the research pipeline, from extracting experimental data to fostering market and legal viability.
Applying my scientific training often takes the form of evaluating statements of variable credibility, Googling like an expert, and communicating recommendations. A rigorous process akin to bench research is not always possible, often for reasons such as urgent timing or a simple lack of data, but the more policy is based in fact, the stronger it will be.
What inspired your decision to pursue a science policy career after earning your neuroscience PhD and working in science education?
We pursue science for several reasons. The most common I have encountered are a fascination with the underlying principles of the natural world and a deep desire to improve current conditions, such as medical shortcomings or a worsening environmental state. For me, a science policy career is a continuation of that passion to have a positive impact on the world, and it demonstrates directly the value of the scientific method.
Throughout my life experiences, I have recognized how policies shape people's lives. For example, I have a little sister with developmental disabilities whose support changed drastically when we moved states. I also have observed how federal decisions have limited the scope of scientific research. In contrast, living in Europe for nearly a decade allowed me to experience the manifestations of a government dedicated to social support.
I have always wanted to pursue a career that would allow me to work toward improving difficult challenges, but it was only during graduate school that I learned about opportunities to apply a scientific approach to policy.
As a part of coordinating TEDx conferences for the Fulbright alumni network, I was invited to the World Science Forum, hosted by UNESCO, AAAS, and the International Council for Science. I had a conversation with Rush Holt, the CEO of AAAS, about the need for scientists to engage more fully with policy by making a career of it. Shaping policy can have a direct impact on science itself by effectively providing or rescinding support for various initiatives.
That conversation inspired me to pursue a fellowship in my home state with the California Council on Science and Technology, which became my generously supported path into the policy world. It comprised a five-week training program to understand the language of policy — how to craft a bill, negotiate amendments, collaborate with lobbyists, and reach out to stakeholders. For the rest of the year, my colleagues and I worked as consultants for policy committees and offices throughout the California Legislature, addressing issue areas including health, environmental science, transportation infrastructure, and cybersecurity.
What do you do in your current role and what are some of the high-level issues you've worked on?
I've become familiar with research policy, or the laws and regulations that craft and facilitate scientific research administration. Policy changes most often originate with a senator's request to map out how the state could improve its research programs.
The project I was on led to the development of a blueprint for a new research agency or program — that was a dream project. I dove into the science of research and took a bird's eye view of how to optimize the public benefits of investments in research.
In fact, there's a whole field, called scientometrics, dedicated to tracking and assessing scientific progress. For practical research administration, this field provides tools and frameworks to decide which projects to fund and how to amplify the results of that research.
The Senate Office of Research is also integral to confirming the governor's highest-level appointments, as one of the checks and balances the legislature has over the executive branch. My first project was to vet the new Chief Information Officer of the state, who also directs the California Department of Technology. That experience offered me a window into the inner workings of data systems used throughout state agencies.
I also track activities of the Department of Developmental Services, which supports the 300,000 people in the state of California with developmental disabilities, such as autism and cerebral palsy. I have primarily engaged with efforts to measure progress in distributing services more equitably across geographic regions and racial communities.
Like many public entities, the department collects reams of data but rarely has the opportunity to analyze its datasets in full, and even then, usually only after the fact. Based on inspiration from the MIT Poverty Action Lab and the U.S. Commission on Evidence-Based Policymaking, I hope to contribute to a changing culture in state government that would see evaluative measures automatically incorporated into policy for the opportunity to consider the extent to which a program was effective.
Finally, I dedicated much of last year to a project that culminated in a report on the impacts of climate change on public health, which was covered by NPR and presented to the World Bank in November 2018 by then-Senator Ricardo Lara of Los Angeles. Lara is now the State Insurance Commissioner and was recently appointed the nation's first Deputy Commissioner for Climate and Sustainability to address climate change through the insurance industry.
How have your neuroscience outreach experiences impacted your policy work?
My involvement in outreach activities grounds me in why I entered science in the first place. To balance the intensity of running experiments, I always maintained a strong role in community outreach that would provide a channel of connection to communities that were most affected by medical challenges and other communities that had the power to make change — primarily young students. The Christopher Reed Foundation encouraged this, too. Once a week, recipients of their research grants stopped by the local spinal cord injury clinic to remind us who we're fighting for in the laboratory.
Working as a volunteer behavioral therapist for children with autism living in low-income communities is one of the most formative public engagement activities I've been a part of. I also had the opportunity to serve as director of the International Brain Bee and other national and local competitions and was a cofounder of TEDx conferences seeking to amplify local ideas for societal progress.
These projects have served as platforms on which to build my own perspective and knowledge of policy issues I would never have otherwise understood on a personal level. It's a humbling experience to learn about the many life conditions in which policy has been and continues to be even more impactful than I've experienced directly. My goal is to maintain a level of mindfulness of the many different people whose lives are touched and recognize that priorities will invariably collide when resources are allocated. The best we can do is bolster our evidence base to give our decision-makers the opportunity to deliberate the data-supported merits of different options.
What can neuroscientists interested in a policy career do to become more competitive — and make an impact?
Like science, policy is complex and benefits from contributions of those trained to detect the signal from the noise.
Consider these opportunities to become familiar with policy and contribute to your local, state, and federal government:
Take a sabbatical or make your next career step to do a policy fellowship at the state or federal level.
Collaborate with your university's press office to publish a press release after you publish a paper.
Write op-eds for your local newspaper. Media attention can be powerful, from a local city council all the way up to the federal government.
Register as an expert on SciLine, a new AAAS database which connects scientists and journalists.
Sign up for policy/advocacy newsletters, such as the AAAS policy newsletter, to stay up-to-date on current issues and opportunities.
Join an advocacy group as a scientific adviser. For example, I was the science ambassador of the Autism Speaks San Diego chapter.
Attend local district meetings of your elected representatives for a chance to speak with a decision-maker.
Local and state boards and commissions influence policy by issue area. Decisions can affect teaching requirements, medical guidance, and infrastructure projects, to name a few areas. Appointments are made by the governor, legislature, and local governments, and subject-matter experts are needed, as well as non-experts to represent the public.
Write a letter of support or opposition to bills or issues.
Partner with a professor of policy.
Consider teaching a science policy course.
Consider a career move as a state or federal scientist. There are also many non-bench roles in the Executive Branch, including strategic planning and policy advising.
For more information, read, Balancing Science Policy Interests with Lab Work: Is It Possible? and How to Prepare for a Science Policy Career.
Speaker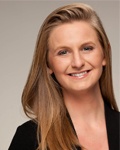 Julianne McCall, PhD
Julianne McCall is a science officer in the Governor's Office of Planning and Research. She was previously a consultant for the California Senate Office of Research and a science and technology policy fellow for the California Senate. Actively involved in sharing neuroscience with the broader community through both policy and outreach, she is also cofounder and lead curator of TEDxFulbright and was previously director of the International Brain Bee, a science ambassador for Autism Speaks, and a Fulbright research fellow. She earned her PhD in neuroscience from the University of Heidelberg, where she focused on gene therapy for neuroregeneration following brain and spinal cord injury.