Science Policy Careers: The Difference Neuroscientists Can Make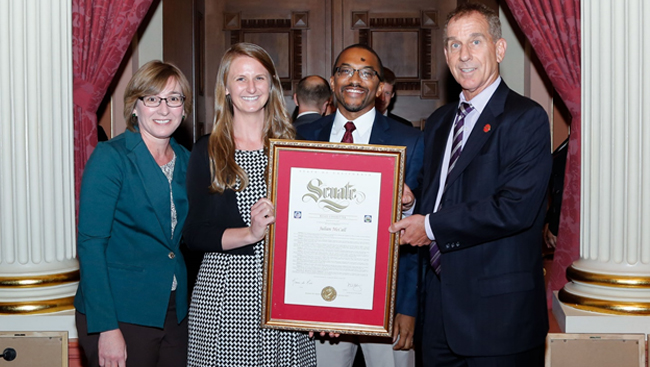 What value do neuroscientists offer to the policy making process?
A scientific approach creates quality legislation by adding a critical filter to analyses and by contributing to a general regard that conclusions must be backed up independently.
A Senator in the state of California represents nearly one million constituents and votes on more than 5,000 bills every two-year cycle. In such a fast-paced environment, legislators rely on a system of information delivery that takes the form of timely, packaged ideas gleaned from news articles, the legislator's own staff or personal network, advocacy groups, think tanks, and lobbyists.
Lobbying firms, considered the "Third House" of the legislative branch, hold particular power because they have the means to constantly present information to decision-makers and their staff at the right time, with clear context and vision, and with a sophisticated strategy for enacting legislation.
Government plays a role in creating the conditions necessary for scientific progress, primarily via public funding and patterns of regulation. However, scientific progress needs scientists at each step of the research pipeline, from extracting experimental data to fostering market and legal viability.
Applying my scientific training often takes the form of evaluating statements of variable credibility, Googling like an expert, and communicating recommendations. A rigorous process akin to bench research is not always possible, often for reasons such as urgent timing or a simple lack of data, but the more policy is based in fact, the stronger it will be.
Access to the full article is available to SfN members.
Neuronline is a benefit of SfN membership. Renew your membership now to make sure you don't lose access.
Speaker
Julianne McCall, PhD
Julianne McCall is a science officer in the Governor's Office of Planning and Research. She was previously a consultant for the California Senate Office of Research and a science and technology policy fellow for the California Senate. Actively involved in sharing neuroscience with the broader community through both policy and outreach, she is also cofounder and lead curator of TEDxFulbright and was previously director of the International Brain Bee, a science ambassador for Autism Speaks, and a Fulbright research fellow. She earned her PhD in neuroscience from the University of Heidelberg, where she focused on gene therapy for neuroregeneration following brain and spinal cord injury.