How to Prepare for a Science Policy Career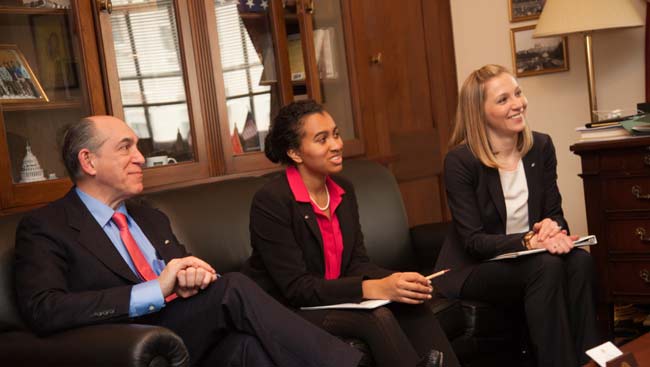 This resource was featured in the NeuroJobs Career Center. Visit today to search the world's largest source of neuroscience opportunities.
Are you interested in a career in science policy? Whether you are just beginning to explore your options or looking for ways to enhance your resume in anticipation of your job search, here are six tips for preparing for a science policy career.
Learn about different science policy careers.
Most researchers understand the career options available along the traditional academic path. However, many are unaware of the numerous opportunities for scientists interested in a career in science policy. It is worth taking the time to explore science policy jobs in government, nonprofit organizations, and in other private sector entities. Reach out to people in different science policy career areas for information on what their job is like.
You can also get more information by watching this Careers in Science Policy webinar, and reading the government program management and policy and advocacy career path guides.
Track the issues.
Science policy issues discussed in the public domain change regularly. Get to know which topics are currently making the news. In this field, you will need to demonstrate general knowledge about the space — and it is never too soon to start. Many online resources, including SfN's Advocacy Network page, provide top policy and advocacy news items relevant to researchers. Take a deeper dive into a policy topic that interests you. It will be helpful when you are thinking of ways to get active in science policy. Additionally, being an expert on a policy issue may make you a more attractive job candidate.
Participate or plan advocacy activities.
Participate in advocacy activities. These are great opportunities to learn and build your resume. There are lots of events in Washington, DC, such as SfN's Capitol Hill Day, but you can also get involved on a local level. Start your own events if there aren't advocacy activities available in your area. For example, create a science policy discussion group, visit your representative's local office, or invite a local official to speak to your program. Your creativity to start advocacy initiatives will demonstrate leadership.

Get comfortable in a nonacademic setting.
Have you ever worked in an environment besides the lab? Consider interning at a government agency, a nonprofit organization, or a company. Not only will you learn something new, but also your future employer will appreciate knowing that you have that experience. To gain office experience and get further acquainted with policy issues, I worked as a policy and advocacy neuroscience fellow at SfN.
Hone your communication skills.
Your ability to effectively write and verbally communicate is probably the single most important part of getting a job in science policy. Consider writing an op-ed about a policy topic that interests you, or teaching a policy seminar to high school students in your area.

Network, network, network.
Networking will be important in any science policy career. Starting now might lead to new opportunities or make it easier to get a fellowship or position. Talk with people before and after events, or ask someone to chat about career development strategies over a cup of coffee.
How are you preparing for a career in science policy? What advice do you have for others? Leave a comment below.