How to Partner With SfN for a Stronger Advocacy Message
There are many opportunities to partner with SfN and other like-minded advocates, whether you're just beginning or have years of experience. We have many materials that you can use to help you get started, continue, or bolster your advocacy activities.
This video will cover:
Resources available to support your growth as an advocate.
Why it's encouraged to tell SfN about your advocacy activities and how to get in touch.
Simple ways to get started.
Take these steps to connect with SfN as you get started:
Speaker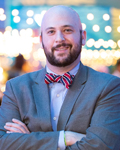 Adam Katz
Adam Katz is the Advocacy Engagement Manager at the Society for Neuroscience, where he equips and empowers researchers to engage their elected officials. He previously was a Policy and Advocacy Specialist at Research!America and an intramural postbaccalaureate researcher within the National Institute of Mental Health. Katz's main research interests lie in neural plasticity. He received his undergraduate degree in brain and cognitive science from the University of Rochester and his Master's in policy and advocacy from Georgetown University.