Animal Research: Raising Awareness of Care Regulations
Scientists are careful to follow animal care regulations, both for the well-being of the animals and for the accuracy of the science. By educating the public on the guidelines in place to ensure animal welfare during experiments, you can help encourage public support of animal research overall.
One crucial first step for engaging with nonscientists is partnering with your institution and lab animal caretakers to craft a transparent and positive message. By sharing the full scope of the work — the importance of the research and the care oversight in place — you can help accurately inform the public's perception and shape the conversations happening around animal research.
"It's always better if it's an institutional effort. You want your administration to support what you do," says Eric Sandgren, associate professor of experimental pathology at the University of Wisconsin-Madison School of Veterinary Medicine. "Bring people together who are comfortable talking with university communications specialists, the ones who can give you a sense for the terminology to use and what are likely to be the most important questions of interest. Then practice saying your points in a way you may not say them with your scientific colleagues."
In addition to working in teams, Sandgren recommends showing your passion for your research to help explain not only how animals are cared for but also why they're necessary to many lines of scientific inquiry.
"If you're talking about your own research, you understand that research. You're excited by it. Doing research is hard, so you're not going to be in it if you're not excited by it," he says. "Work with some of the communications experts that are part of your organization to give you the words to use to express that, to say what you're doing, the question you're asking, and why it's so important to find an answer to that question."
After you've watched, learn additional strategies for communicating openly about animal research in the Animals in Research Panel from Neuroscience 2018, Gaining Support for Animal Research: A Proposal for Openness.
Speaker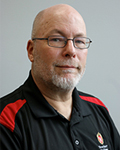 Eric Sandgren, VMD, PhD
Eric Sandgren is a professor of pathobiological sciences at the University of Wisconsin-Madison School of Veterinary Medicine. He received his bachelor's degrees from the University of Wisconsin-Madison and his VMD and PhD in genetics from the University of Pennsylvania. Sandgren's research program examined the genetic basis of cancer development using genetically modified mice, and he has over 60 publications in this area. Since 1995, he has chaired or served on three of UW-Madison's Animal Care and Use Committees, and for 10 years was director of the campus's animal program and Research Animal Resources Center and a spokesperson for animal research issues. He has participated in debates and discussions about animal research ethics, and he gives annual lectures on responsible use of animals in research to undergraduate, graduate, and veterinary students. Recently, he established the Common Ground on Animal Research initiative at the School of Veterinary Medicine, which brings together scientists, ethicists, and community members to work toward shared objectives including creating more comprehensive, accurate, and open communication about animal research, and working to improve research animal well-being.