Teaching Neuroscience to Nonscientists: Neuroscience Meets Music
Enabling neuroscience and humanities students to banter over complex topics and try to understand what everyone is saying actually helps them learn.
In her "Neuroscience of Music" class at Lafayette College, Lisa Gabel, associate professor of psychology and neuroscience, has found that integrating two seemingly opposing fields and groups of individuals studying different questions yields interesting conversations and benefits.
Watch this video to hear Gabel's anecdotes about how her students apply the minutia of neuroscience to global problems and interpret data in new ways, and advice on how professors can broaden the scope of their classes.
Speaker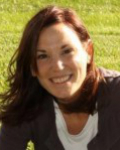 Lisa Gabel, PhD
Lisa Gabel is an associate professor of psychology and neuroscience at Lafayette College. Her research interests include synaptic plasticity, epilepsy, neurodevelopmental disorders, and Brain-Computer Interface, and her teaching interests include physiological psychology, psychopharmacology, advanced neuroscience, neurophysiology, and quantitative methods. Gabel received her PhD in physiology and neurobiology from the University of Connecticut and completed postdoctoral training at Brown University in the department of neuroscience; Wyeth Pharmaceuticals in the department of neurophysiology and neuropharmacology; and the University of Pennsylvania in the department of neuroscience.