Sympathetic Optogenetics for Neuroimmunity
In this video, Ana Domingos describes her research using optogenetics to study the relationship between the immune system and sympathetic nervous system.
Speaker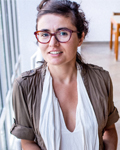 Ana I. Domingos, PhD
Ana Domingos is an associate professor of neuroscience in the department of physiology, anatomy, and genetics, at Oxford University. Her lab researches neuroimmune mechanisms underlying obesity. Her lab discovered the neuro-adipose junction, a functional synapse-like connection between white adipocytes and the sympathetic nervous system necessary and sufficient for fat mass reduction, via norepinephrine (NE) signaling (Cell 2015, Nature Comm 2017). They then discovered Sympathetic neuron-Associated Macrophages (SAMs) that contribute to obesity by directly importing and metabolizing NE (Nature Medicine, 2017). Previously, she started up her own lab at the Gulbenkian Science Institute. As an undergraduate, Domingos studied mathematics at the University of Lisbon and Paris Diderot University. She has a PhD in neurobiology from The Rockefeller University, where she was advised by Leslie Vosshall. Domingos did her postdoc with Jeffrey Friedman at The Rockefeller University.