Strategies for Creating Healthy Learning Environments
Christine Alvarado, an undergraduate professor at the University of California, San Diego, strives to create a healthy learning environment to set her students up for success.
She believes students will grow in an emotionally productive classroom that encourages them to ask questions, fail, admit they don't understand, and seek support.
Conversely, if there is a lot of competition between peers, or the same student always raises their hand while the rest of the class is silent, there could be a need to update the classroom structure.
To combat a negative — or even neutral — emotional learning environment, Alvarado implements specific tactics to keep students engaged, supported, and responsible for their own time management and learning:
Being transparent about her own failures.
Training her staff to respect different learning styles.
Implementing flexible homework policies.
Getting feedback from her students.
Creating learning communities.
Letting students fail without major consequences.
"My policies are born out of the fact that I teach a lot of first year college students who, in many ways, are unprepared for the college environment," she reflects.
Ultimately, empathy is a key motivator for her. She says, "The whole reason I do my job is because I want every student to learn. Particularly the students who might not feel as comfortable, who might be doubting themselves or be scared. Those are the students I can really help."
Watch her video for more tips on the importance of building a supportive environment and advice for doing so.
Speaker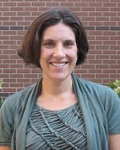 Christine Alvarado, PhD
Christine Alvarado is an associate professor in the computer science and engineering department at the University of California, San Diego (UCSD). She received her undergraduate degree in computer science from Dartmouth College and her PhD in computer science from the Massachusetts Institute of Technology. Before joining UCSD, she was a tenured associate professor at Harvey Mudd College. Currently, she serves as vice chair for undergraduate affairs at UCSD and is co-chair of the National Center for Women and Information Technology Academic Alliance.