Self-organization of hESC Differentiation Patterns to Model Human Diseases in the Ectodermal Compartment
In this video, Fred Etoc discusses his research using organoids to study the developing brain.
Speaker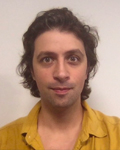 Fred Etoc, PhD
Fred Etoc is chief scientific officer at RUMI Scientific, where his team is developing human embryonic stem cell (hESC)-based tissue-scale models to use in drug discovery for Huntington disease and neurodevelopmental disorders. He trained as a chemist at the École normale supérieure, in Paris, before developing an interest in biology and biophysics and joining the laboratories of Ali Brivanlou and Eric Siggia as a postdoc, working to create self-organized hESC assemblies mimicking early human embryos at gastrulation stages. He is currently working to quantitatively and reproducibly model normal and pathological early neural development, combining micro-fabrication, imaging, and artificial intelligence.