Resources to Fund Graduate School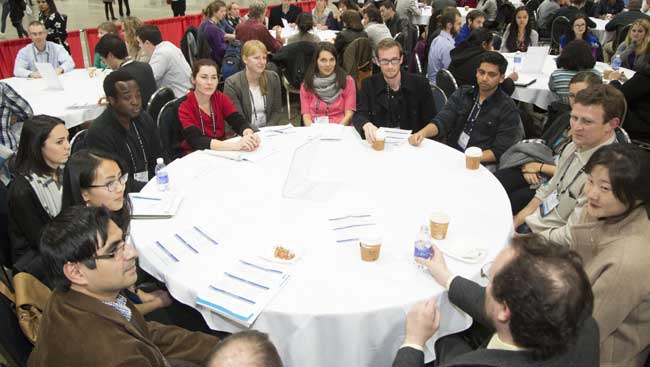 Watch SfN's webinar, Funding for Graduate Education: Finding Success with Traditional Funding Sources and Exploring New Models, for more information.
Fellowship and other funding opportunities come in many forms, and from many sources. To ensure you find the funding that fits your academic level and program:
Be proactive in your search.
Ask colleagues for advice.
Contact your scientific society.
Search grant databases for funding that fits your needs.
Start the search early. Some fellowships are only available to first-year graduate students or only to those doing specific kinds of research.
The main sources of funding for graduate education are federal agencies and nonprofits. They come in many types, including:
Institutional or individual grants.
Stage of training (e.g., first year, pre-thesis, post-qualifying exams, final year).
Research focused (e.g., specific subject, disease, or application).
Demographics (e.g., underrepresented minorities or women).
Location (e.g., available only to students at specific institutions, geographical areas, or countries).
Fellowship, program, travel, or research grants (provides funds for stipend and tuition, training programs, student travel, or student research costs).
The resources below focus mainly on graduate fellowships and training grants, but don't forget about smaller travel and research awards for students, which can help support research and other opportunities that might be otherwise unavailable to students..
National Institutes of Health
National Science Foundation
The Graduate Research Fellowship Program provides three years of fellowship support for graduate education in science, technology, engineering, and mathematics, (STEM).
The Research Traineeship Program is an institutional grant with two tracks. The Traineeship Track is dedicated to the education of STEM graduate students in high-priority interdisciplinary research areas. The Innovations in Graduate Education Track is dedicated solely to piloting, testing, and evaluating bold, new graduate-education approaches, models, and activities.
The Integrative Graduate Education and Research Traineeship program is no longer accepting new applications from host institutions, but many individual centers are still running.
Other U.S. Federal Programs
Selected U.S. Nonprofits Offering Graduate Fellowships
Fellowships Outside the United States
Many countries offer fellowships to support graduate science education. Be sure to check eligibility criteria, as many fellowships are exclusively for citizens of that country, or for international students going inside or outside of that country.
Canada
The Natural Sciences and Engineering Research Council of Canada has a Web portal with many fellowship opportunities.
The Canadian Institutes of Health Research Fellowship is open to both Canadians and citizens of other countries completing a PhD at Canadian institutions, as well as Canadian citizens and permanent residents completing their education outside of Canada.
Mexico
United Kingdom
Germany
Developing Countries
The World Academy of Sciences offers many opportunities for funding graduate education in developing countries.
These resources were prepared by SfN's Committee on Neuroscience Departments and Programs Working Group and presenters Ellen Walker, Alison Hall, and Ludise Malkova in SfN's webinar, "Funding for Graduate Education: Finding Success with Traditional Funding Sources and Exploring New Models."