Module 4A: Neural Organoids – Modeling Human Brain Development in a Dish
In this presentation, Madeline Lancaster will:
Introduce development of three-dimensional neural organoids.
Describe various three-dimensional methods: emphasizing strengths and limitations.
Provide an overview of neurological conditions so far modeled with organoid systems.
Learning Objectives
After watching this presentation, participants at all career stages should be able to:
Describe what the various three-dimensional systems are capable of.
Identify examples of human conditions that can be modeled using three-dimensional neural organoid systems.
Speaker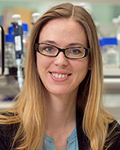 Madeline Lancaster, PhD
Madeline Lancaster is a group leader in the Cell Biology Division of the Medical Research Council Laboratory of Molecular Biology (LMB), part of the Cambridge Biomedical Campus in the United Kingdom. Lancaster studied biochemistry at Occidental College before completing her PhD in biomedical sciences at the University of California, San Diego. She joined the Institute of Molecular Biotechnology of the Austrian Academy of Sciences, in Vienna, Austria, as a postdoctoral researcher in the Knoblich lab, where she developed the first brain organoids before joining the LMB in 2015. Research in the Lancaster lab focuses on human brain development using this new cerebral organoid model system to study the most fundamental differences between human brain development and that of other mammalian species — what makes us human.