Module 3C: Deriving Human Astrocytes from Pluripotent Stem Cells
In this presentation, Jason Tchieu will:
Explain why human astrocytes are important.
Provide general methods to differentiate astrocytes from PSCs, including transcription factor mediated systems.
Describe how to stage and troubleshoot the differentiation(s).
Introduce functional and molecular characterization.
Introduce co-culture analysis.
Learning Objectives
After watching this presentation, participants at all career stages should be able to:
Explain the logic in the directed differentiation of astrocytes from hPSCs, including steps where transgene expression can bypass particular stages of neural development.
Outline some uses of astrocytes for modeling neuron/glia interactions in mixed cultures.
Supporting Resources
Download this guide to access resources that supplement Tchieu's presentation.
Speaker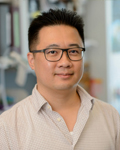 Jason Tchieu, PhD
Jason Tchieu is a postdoctoral research fellow at Memorial Sloan Kettering Cancer Center. He previously worked as a bioinformatics programmer at the San Diego Supercomputer Center. Tchieu's research focuses on understanding how the brain develops by elucidating the role of glia in neurological disorders. He received his undergraduate degree in biochemistry from the University of California, San Diego and his PhD in molecular biology from the University of California, Los Angeles.