Module 3A: Generation and Use of iPS-Derived Microglia
In this presentation, Mathew Blurton-Jones will:
Introduce methods to differentiate pluripotent stem cells into microglia.
Describe approaches that can be used to validate the resulting cells.
Describe in vitro assays that can be used to examine microglial function.
Identify potential caveats with in vitro microglial culture.
Explain development and use of new chimeric mouse models to study human microglial function in vivo.
Learning Objectives
After watching this presentation, participants at all career stages should be able to:
Outline basic methods that can be used to differentiate iPS cells into microglia and to validate the resulting phenotype.
Identify a variety of assays that can be used to study the function of microglia in vitro and the potential use of chimeric transplantation models to study human microglia function in vivo.
Supporting Resources
Download this guide to access resources that supplement Blurton-Jones' presentation.
Speaker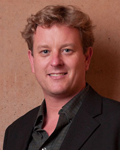 Mathew Blurton-Jones, PhD
Mathew Blurton-Jones is an associate professor in the department of neurobiology and behavior at the University of California, Irvine, and director of UCI's Alzheimer's disease iPSC and CRISPR cores. His research combines patient-derived pluripotent stem cells, CRISPR gene-editing, and chimeric mouse models to examine the impact of Alzheimer's disease risk genes on human microglial function. Blurton-Jones earned his PhD in neuroscience at the University of California, San Diego and completed postdoctoral training at UC Irvine before starting his own lab in 2011.