Module 2C: Morphological and Functional Analysis of Human Neurons
In this presentation, Zhiping Pang will introduce parameters for defining human neurons derived from iPSCs. Specifically, Pang will:
Describe morphological features of human neurons (immature to mature characteristics).
Introduce morphological and biochemical techniques to characterize human neurons.
Provide information about functional characterization of human neurons, including electrophysiology (cover intrinsic neuronal membrane property; active membrane property; synapse transmission) and calcium imaging (network activity and contributions of synaptic transmission).
Learning Objective
After watching this presentation, participants at all career stages should be able to:
Outline techniques and methods used to define human neurons derived from human iPS cells.
Supporting Resources
Download this guide to access resources that supplement Pang's presentation.
Speaker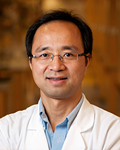 Zhiping Pang, PhD
Zhiping Pang is an associate professor of neuroscience and cell biology at Rutgers Robert Wood Johnson Medical School. Pang's main research interests lie in understanding mechanisms of synaptic regulation from stem cells to the brain. Under the tutelage of Thomas Südhof, he earned his PhD in neuroscience from the University of Texas Southwestern Medical Center and completed postdoctoral training at Stanford University.