Module 2A: Implementing Optogenetics in the Lab – Why Use Optogenetic Methods?
In this presentation, Christina Gremel will cover why and when to use optogenetics to investigate brain function. Specifically, Gremel will:
Identify the advantages and disadvantages of optogenetic techniques compared to other techniques, such as lesions, pharmacological manipulation, and chemogenetics, to manipulate brain function.
After watching this presentation, you should be able to gain a general understanding on what optogenetics offers when exploring neural bases of behavior.
Visit the Community forum for all eight modules to share your insights and best practices, ask questions, and engage with other training series' participants.
Speaker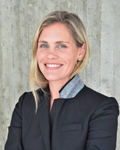 Christina Gremel, PhD
Christina Gremel is an assistant professor in the department of psychology and a member of the neurosciences graduate program at the University of California, San Diego. Her research focuses on the behavioral and neural bases of decision-making and their perturbations in diseases states, such as addiction. She earned her PhD from Oregon Health & Science University and did her postdoctoral training at NIH.