Module 1A: Generating and Genome Editing iPS Cells
In this presentation, Valentina Lo Sardo will introduce the generation of iPSCs from somatic cells and methods of genome editing. Specifically, Lo Sardo will:
Introduce reprogramming, including different cell sources and methods for generating iPSCs.
Describe experimental design and procedure to generate, validate, and maintain iPSCs from peripheral blood mononuclear cells (PBMCs), including general considerations on source of variability in iPSCs.
Introduce genome editing techniques.
Explain experimental design and procedure to perform genome editing using TALENs, including general considerations on study design and type of controls.
Learning Objectives
After watching this presentation, participants at all career stages should be able to:
Explain the basics of reprogramming.
Summarize how to make a study design considering possible limitations and proper number of samples.
Outline how to perform a reprogramming experiment.
Explain how to validate and establish iPSC lines.
Describe genome editing techniques and how to design and perform an experiment.
Describe how to design the proper study based on your interests.
Supporting Resources
Download this guide to access resources that supplement Lo Sardo's presentation.
Speaker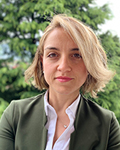 Valentina Lo Sardo, PhD
Valentina Lo Sardo is a staff scientist in the department of neuroscience and Dorris Neuroscience Center at Scripps Research. Lo Sardo's research focuses on genomic stability and integrity of induced pluripotent stem cells (iPSCs), and she is interested in using iPSCs and genome editing to study genomic loci associated with human diseases. She earned her MS and PhD in pharmaceutical biotechnologies from the University of Milan, in Italy, where she worked in the laboratory of Elena Cattaneo and contributed to deciphering the role of the huntingtin gene in neural development and its aberrant function in Huntington disease. Lo Sardo completed postdoctoral work with Kristin Baldwin at Scripps Research, investigating the impact of aging in iPSCs' epigenetic and genomic stability and applying genome editing of large genomic risk haplotypes and patient-specific iPSCs to uncover the function of a mysterious gene desert genomic locus influencing susceptibility for cardiovascular disease.