Modeling Oligodendrocyte Death in Human Pelizaeus-Merzbacher Disease
In this video, Hiroko Nobuta discusses her work using patient-derived stem cells to research Pelizaeus-Merzbacher Disease and potential future treatments.
Speaker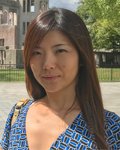 Hiroko Nobuta, PhD
Hiroko Nobuta is a postdoctoral fellow in the neuroscience department at the Albert Einstein College of Medicine. She completed training in oligodendrocyte biology with her PhD mentor James Waschek, at the University of California, Los Angeles, as well as her postdoctoral mentors David Rowitch, at the University of California, San Francisco, and Marius Wernig, at Stanford University. She is now exploring gene engineering methods to manipulate glia cells to treat neurodegenerative disorders.