Methods to Improve Student Learning
"Thinking about the evidence behind how we teach and what we teach is important," reflects Brian Couch, assistant professor at the University of Nebraska-Lincoln, whose research group seeks to understand the undergraduate science education system and identify methods to improve student learning.
Undergraduate neuroscience is a broad field with diverse students. Identifying and using tested teaching practices with demonstrated efficacy in the classroom can help educators assess their students' success and adequately prepare them for future careers.
Watch this video to learn how to start small and incorporate specific evidence-based activities into your classroom to improve student learning.
Speaker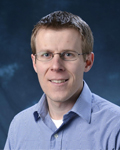 Brian Couch, PhD
Brian Couch is an assistant professor of biological sciences in the school of biological sciences at the University of Nebraska-Lincoln. His research group is currently investigating how transformed teaching practices are implemented by faculty at both local and national levels. It is also engaged in the development of innovative assessment tools to measure student comprehension of biological concepts. Couch earned his BS from Regis University and PhD from Yale University.