Human Pluripotent Stem Cells for the Study of Enteric Nervous System Development and Disease
In this video, Faranak Fattahi discusses her lab's use of human pluripotent stem cells to study the cell types and diseases of the enteric nervous system.
Speaker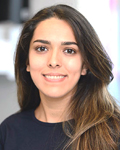 Faranak Fattahi, PhD
Faranak Fattahi is a Sandler Faculty Fellow at the University of California, San Francisco, where she uses human pluripotent stem cells to develop models of peripheral nervous system development and function. Her laboratory uses these models to define disease mechanisms and identify new therapeutic targets for peripheral neuropathies. She completed her graduate training in the laboratory of Lorenz Studer at Memorial Sloan Kettering Cancer Center.