Next Generation Human Disease Models in Neuroscience Lightning Talks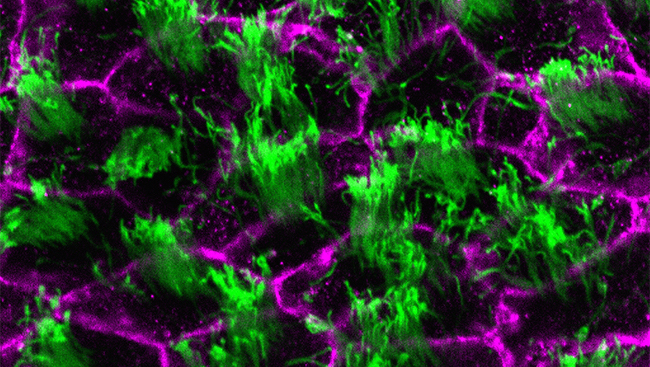 The use of induced pluripotent stem cells (iPSCs), organoids, and cellular reprogramming methods allow researchers to capture the genetic diversity of the human population while studying the development, maturation, and aging of the brain. This collection of videos highlights how researchers are using these stem cell technologies to study human brain development and disease.
Developing Patient-specific Stem Cell Models to Inform Epilepsy Therapies

In this video, Evangelos Kiskinis discusses his lab's work using patient-derived induced pluripotent stem cells to study pediatric epilepsy.

Genetically Engineered Cerebral Organoids Model Human Brain Tumor Formation

In this video, Shan Bian discusses his postdoctoral work using cerebral organoids to study brain tumors.

Human ES Cell-based Modeling of Pediatric High-grade Glioma

In this video, Kosuke Funato and Ryan C. Smith discuss their use of stem cell models to study mutation in pediatric brain tumors.

Human Pluripotent Stem Cells for the Study of Enteric Nervous System Development and Disease

In this video, Faranak Fattahi discusses her lab's use of human pluripotent stem cells to study the cell types and diseases of the enteric nervous system.

MiSTR Crossing Microfluids and hESC to Generate a Predictable in vitro Model for Studying Early Human Neural Development

In this video, Pedro Rifes discusses his research using human embryonic stem cells to study the early development of the brain.

Modeling Oligodendrocyte Death in Human Pelizaeus-Merzbacher Disease

In this video, Hiroko Nobuta discusses her work using patient-derived stem cells to research Pelizaeus-Merzbacher Disease and potential future treatments.

Self-organization of hESC Differentiation Patterns to Model Human Diseases in the Ectodermal Compartment

In this video, Fred Etoc discusses his research using organoids to study the developing brain.

Using Organoids to Model Brain Development and Evolution

In this video, Iva Kelava discusses her research using organoids to model the developing human brain.