How Active Learning Groups Help Students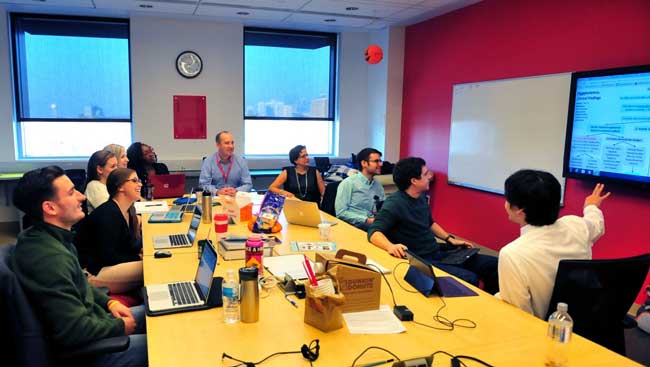 The following case study is adapted from a Theme J (formerly Theme H) abstract presented at Neuroscience 2014. Theme J abstracts cover topics related to history, teaching, public awareness, and societal impacts in neuroscience, allowing departments and organizations to showcase the work they have done in these areas.
At Cooper Medical School of Rowan University (CMSRU), we have found that case-based Active Learning Group (ALG) discussions are an effective way to disseminate core medical concepts related to neuroscience.
At CMSRU, medical students receive a case study and are tasked with identifying learning objectives and obtaining the information necessary to meet those objectives. Students then convene in ALG sessions and contribute to the group's learning by sharing what they have prepared for discussion. Consider the following real example from our curriculum, and the takeaways from the students, to see if you can also use this format to stimulate learning.
Case
As part of a six week neurology-psychiatry course, we developed a case to introduce spinal cord anatomy and function.
In the case, a hypothetical patient had difficulty walking, concurrent with painful, numb parasthesias in the shoulders and arms. The results of a neurological exam were also described. Neurological imaging was not offered to the students.
Learning Objectives
The learning objectives for the case focused on the ascending, descending, and reflex pathways found in the spinal cord, as well as nutritional, degenerative, inflammatory, and structural diseases that affect its function.
Some of the objectives students had to meet included:
Describe the anatomy of spinal cord including cross-sectional anatomy, location of tracts, blood supply and dermatome/myotome distribution.
Summarize the origin, anatomy, and types of reflexes.
Analyze differences between clinical signs of upper and lower motor neuron dysfunction, and sensory pathway dysfunction.
Students discussed the case in groups over three two-hour ALG sessions and used additional information presented to them prior to each session to help guide their preparation.
Group Structure
We typically have seven to eight students in each group. During the ALG sessions, students:
Read the case study orally.
List the facts from the case stem and discuss hypotheses generated by each student.
Discuss any vocabulary that is still unclear.
Analyze the significance and relationship of the data. What is the main problem? What information is needed?
Create a list of learning issues and objectives for discussion.
Student Feedback
Students found the ALG format a very helpful method of delivering the material. Some of their comments included:
"This was the best case so far in terms of really making our group work and think as a team. We could not simply look up facts to get through the case, but instead were forced to talk concepts out and synthesize information as a group."
"Not having any imaging and having to localize the lesion was a challenge but very rewarding in terms of the knowledge I came away with."
"It was helpful to work through the cause and location of the lesions as a group, especially since this is the first week of [the neurology-psychiatry course]."
The ALG method allowed for active learning and teaching of the neuroscientific material. It also fostered collaboration, helped develop intrapersonal communication skills, and reinforced professionalism.