Genetically Engineered Cerebral Organoids Model Human Brain Tumor Formation
In this video, Shan Bian discusses his postdoctoral work using cerebral organoids to study brain tumors.
Speaker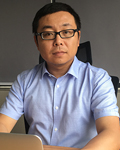 Shan Bian, PhD
Shan Bian is a professor of stem cells and neuroscience in the School of Life Sciences and Technology at Tongji University, in Shanghai, China. Bian's research focuses on the study of human brain development, disorders, and tumors using a brain organoid model system. He earned his PhD in neuroscience from the University of Freiburg, in Germany, and completed his postdoctoral training at the Weill Cornell Medical College and Institute of Molecular Biotechnology (IMBA) of the Austrian Academy of Sciences.