Explore This ERIN Teaching Tool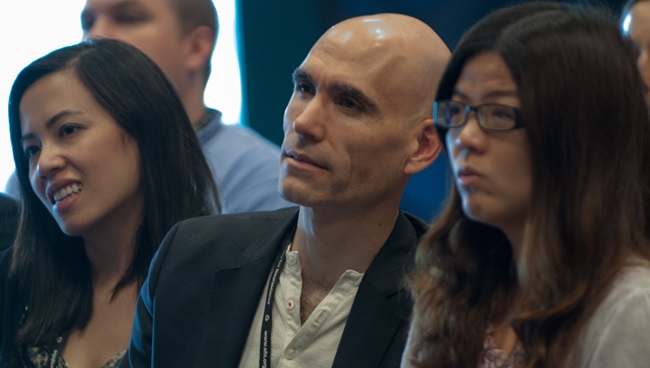 As the knowledge base in neuroscience continues to expand educators need timely resources to engage their students. Educational Resources in Neuroscience (ERIN), was a web portal developed by the Society for Neuroscience (SfN) with funding from the National Science Foundation (NSF). The database included videos, interactive quizzes, and simulators, all selected and reviewed by experts. Selected resources from ERIN can now be found on Neuronline.
Resource Highlighted: Measuring Membrane Potential: The Nernst-Goldman Equation Simulator
Audience: Advanced undergraduates; graduate students; and clinical degree candidates
Summary
One of the many concepts that neuroscience students must master is the membrane potential, an essential element of cell communication. This process begins with the opening and closing of ion channels, selectively permeable, water-filled molecular tunnels that allow electrically charged atoms to enter or leave the cell. The nature of these electrical impulses depends on the interplay between electrical and chemical factors.
Two equations lay the foundation for understanding this mechanism. The first, the Nernst equation, named for Walter Nernst, the German chemist and Nobel laureate who developed it, is a theoretical model. The second is the Goldman-Hodgkin-Katz (GHK) equation, named for American scientist David Goldman and British Nobel laureates Sir Alan Hodgkin and Sir Bernard Katz (though often called simply the Goldman of the GHK equation).
Manipulating the variables
To help students at a range of levels grasp these difficult concepts, Dr. Stephen Wright of the University of Arizona College of Medicine and Michael Branch of the University of Arizona developed an interactive simulator. Students can run the model for each of these equations.
Here's how it works. Students are given information about intracellular and extracellular concentrations for four types of cells — a generic cell, a muscle cell, a giant squid axon, and a blood cell. When running the model for the Nernst equation, they can only adjust concentrations. But for the Goldman-Hodgkin-Katz equation, they can also manipulate permeability. For both models, students will quickly see the range of relative permeability of a membrane to certain ions and how they differ from cell to cell. Though not exact, the simulator provides a rough starting point for understanding these ideas.
The model also includes a control for temperature. That's because these values are dependent on the body temperature of a given organism. The temperature can be adjusted, or it can "forced" at 37 degrees Celsius, the body temperature of most mammals.
The model is available for download for both Windows and the Mac. There's also a web version, which requires the Adobe flash plugin 8. The model's interactive features make it appealing to students, piquing their curiosity for more in-depth studies.