An Inside Look at How One PI Manages His Lab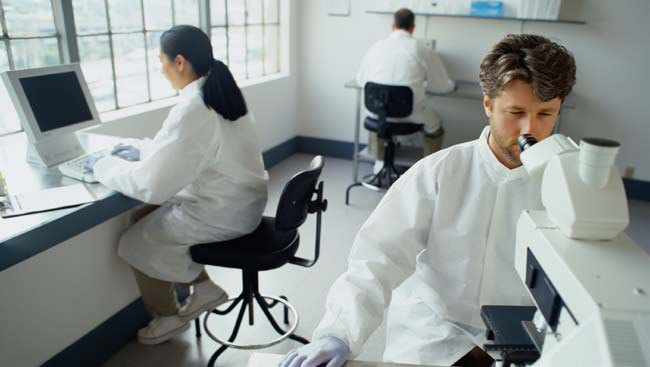 In an interview in Nature, Roberto Kolter, professor of microbiology at Harvard Medical School, shared why he accepts certain postdocs and how he prepares them for career success. In the Q&A below, Kolter further explains how he manages his lab, including the focus and variety of research, mentoring, and preparing postdocs for different career paths. Although Professor Kolter is a microbiologist, his perspective applies broadly, including neuroscience.
In your interview, you explained that you "let the postdocs explore what they want to explore, as long as it is within the sphere of [your] interest." How do you manage the different areas of research?
Intellectually, I have found it quite thrilling to have many different areas of exploration ongoing in my lab at the same time. It keeps me thinking. Of course, it does require that the postdocs take the initiative to learn the background. I end up learning a lot from the postdocs because they are the ones who become deeply steeped in the area of their own choosing.
There is an important balance that needs to be found. Any individual postdoc can choose an area, but if the area is too far removed from what everyone else is doing, they will feel isolated in the group. If the area is too close to someone else's work, then conflict might arise. My role is to manage that balance from the outset and all along.
One key part of managing different areas is to make sure each individual postdoc does not rely on me as his or her sole source of mentoring and advice. Thus, I strongly encourage each postdoc to "connect" with other faculty members or researchers whose expertise is complementary to mine. Such collaborations invariably provide a rich learning experience for everyone involved and, quite often, lead to unexpected insights in the areas being investigated.
Do you encounter any challenges with this flexibility, and if so, how do you handle them?
Given the way science funding works, there is an expectation that a project must be "productive" in order to be renewed. Leading a lab that follows many new directions — and where postdocs who go on to academic jobs take their projects with them — generally puts me in a position that I seldom follow along the exact "specific aims" laid out in a proposal. This is probably the major challenge. But I see it as more psychological than real. My projects are funded by grants, not contracts. When my research directions change, funding agencies have never made an issue of it — perhaps because regardless of the changes, we have almost invariably made reasonably interesting discoveries.
Your training philosophy recognizes that because people may pursue diverse career paths, faculty "need to give them the experience that they require, including learning how to teach and learning how to manage." How do you fit in this professional development training with a rigorous scientific training curricula?
I see absolutely no problem in "fitting" professional development training with rigorous scientific training. Scientific training requires exposure to rigorous thinking in experimental design and result interpretation. But that is not something that absolutely necessitates full time. There is plenty of time open for learning other areas.
The problem is not scientific training being full time. Rather, it is this crazy expectation that postdocs must work full time doing as many experiments as possible to: one, get lots of publications fast, and two, advance the goals of the PI. I argue that such a crazed pace runs counter to rigorous scientific training. Slow down the pace, take the time to learn how to teach (for example, take time away from lab during one semester to teach an undergraduate course, if you wish to be faculty at a college), and make sure you mentor an undergraduate or two; Those are important directions to give to a postdoc. Of course, that requires that I, as PI, let go of any strong desire to "publish as many papers as possible to get my next grant."
How do you tailor this training for students with different career aspirations?
If someone clearly wishes to do both teaching and research at an academic institution, I encourage them to take time away from lab to teach. If someone really wishes to go to a biotech company, I try to connect them with individuals in that area. Postdocs interested in such a track quickly find out that connections (networking) are key to securing a job. Importantly, the hiring dynamics there are very different. Once you get a job offer, they want you "tomorrow." That's very different than academic jobs, where the lag time may be a year or longer. Thus, someone looking to join industry needs to be prepared to have the flexibility of leaving "tomorrow," usually leaving behind his or her work. Mentally, this is a different training than the academic path.
When people are applying to join your lab, you note that "they need to have also done their homework…to know how [you] train people and how they think they would fit in." What steps do you suggest people take to find out what PIs are looking for and what the lab's style and environment is like?
By "done their homework," I mean that aspirants to a particular lab should contact former and current members of the lab and inquire, "How is it REALLY to work there?" People generally will be very open about answering your queries. This goes way beyond reading the publications from a lab, but that should also be done, of course.
Importantly, prior to starting such homework, individuals should really know what their true key priorities are. Then the lab style and environment can be seen in light of, "Where will I be able to make sure my priorities are not only respected but allowed to be strengthened?" Then, if invited for an interview, use the interview not as a time when you wish to impress the PI and the lab, but rather as a time to really show yourself as you are and a time to determine whether you will want to train there for several years. Find out: "Is this a good match for me?" and, "Will I be truly happy training there?" (if happiness is a priority — and I would hope it would be!)
"I believe that I have failed a postdoc if I take them into my lab and they cannot get a job that they love when they leave." In addition to offering professional development training as noted above, what specific ways can PIs departments prepare postdocs for success?
This is a very tough one and I feel split. For one, I believe that departments should stay away from micromanaging the "PI training postdocs" relationship. But, given the reality that mentoring is not the focus of some PIs, there certainly is a role for departments to establish the right "culture" where bad mentoring is not tolerated.
So, departments might set clear expectations of what is good mentoring and let their faculty members know that. I am not sure I like the idea of forcing "postdoc advisory committees." I like that postdocs have several mentors but those arise from the ground up rather than as administrative imposition. On the other hand, providing a little bit of funds for postdoc seminar series or postdoc breakfast discussions (activities of that sort) is not a bad idea.
Read Turning point: Robert Kolter in Nature for more of his insights.
Faculty: How do you prepare postdocs for different career paths? Share with your colleagues below.