All-Optical Electrophysiology of Cortical Layer 1 Neurons
In this video, Linlin Fan discusses her work using an all-optical system to perform electrophysiological studies of cortical neurons.
Speaker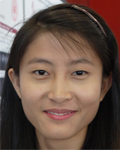 Linlin Fan
Linlin Fan is a PhD student in the laboratory of Adam Cohen at Harvard University. Her research interests lie in developing molecular, genetic, and optical tools to study how brain processes information and what goes wrong in diseases. She developed all-optical electrophysiology of synaptic function and applied the technique to study how ketamine induced hyperactivity. Fan obtained her BS from Peking University.