Adjusting Neuroscience Training to Meet New Demands
The neuroscience field is evolving with new tools, technologies, and research techniques. So what will best prepare the next generation of neuroscientists to use these advances and launch their careers? Floh Thiels, associate professor at the University of Pittsburgh, explains. She discusses why and how training can adapt to these developments, and she highlights just some of the career paths that trained neuroscientists may be interested in pursuing.
Speaker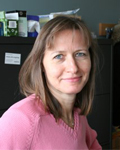 Edda (Floh) Thiels, PhD
Edda (Floh) Thiels is an adjunct associate professor of neurobiology at the University of Pittsburgh School of Medicine and a program director in the Directorate for Biological Sciences at the National Science Foundation. Thiels' main research interests lie in how animals acquire information from the environment and use that information to guide their behavior. She received her undergraduate degree in psychology from the University of Toronto and her PhD in psychology from Indiana University.