Understanding Sex Differences in Rodent Models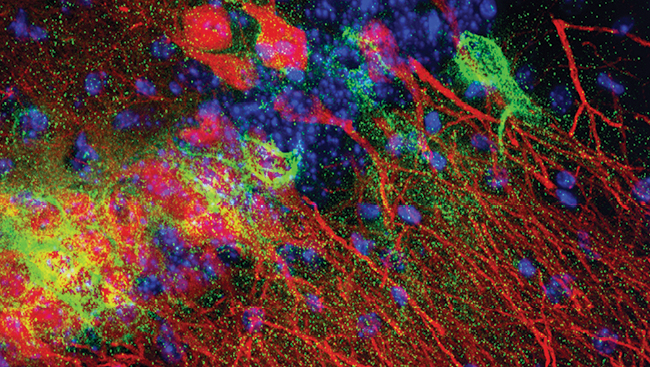 Material below is adapted from the SfN Short Course How to Study Male and Female Rodents, by Jill B. Becker. Short Courses are daylong scientific trainings on emerging neuroscience topics and research techniques held the day before SfN's annual meeting.
Neurological diseases can show up at different times and with different symptoms for men and women. Yet neuroscience research, which often uses rodent models, does not always account for this diversity. Figuring out how sex differences — such as sex hormones and estrous cycles — affect research outcomes could help neuroscientists gain a greater understanding of the brain and related disorders.
When determining sex differences, it is important to remember they are not always clearly binary. Sometimes males and females behave completely differently in well-defined ways, but other times, behaviors may be the same in both sexes and only take place for different lengths of time or at different times of the day.
There also may not be observable distinctions between individual males and females. Instead, sex differences can show up when considering a population or group of animals. In all cases, the underlying mechanisms — that is, the biological basis — for behavior could be different in males and females, but they may not be.
Regardless of how they show up, a major cause of these differences is the effect of sex hormones. These are regulatory substances produced in defined ways by either the sex organs, also called gonads, or the brain.
To determine the effect of sex hormones on behavior, one of the first questions to ask is whether there are differences in female animals' behavior over the course of the estrous cycle, the repeating reproductive cycle present in many female mammals throughout which various sex hormones fluctuate at predictable times.
Unlike in human women, where the menstrual cycle is about 28 days long, rats and mice have a four- to five-day estrous cycle. By comparing behaviors at days one and two with behaviors at days four and five, researchers can gain a basic idea of how female sex hormones might be influencing how an animal is acting. Figuring out what day of the estrous cycle a female rodent is on can be tricky, however, because stress from being observed or handled can disrupt the cycle.
Another important point to consider is hormones can affect the brain for varying lengths of time. In some instances, they exert their effects for less than a second. In others, they might have impacts for days, as they stay in the cell's nucleus after their levels in the bloodstream have dropped.
To cope with this issue, some researchers remove the gonads of experimental animals and add back hormones at specific times to more carefully control when and where the hormones are present and the behavior they elicit.
Surgical removal of the ovaries in a female rodent is called an ovariectomy, while removal of the testes in a male rodent is known as castration. After gonad removal, it might be necessary to replace hormones in an animal's system. Researchers administer the steroid hormones progesterone, testosterone, and estradiol to animals via a variety of injection methods and sites. Different dosing regimens can result in variable results, and these results may help researchers better understand the link between hormones and behavior.
Neuroscientists often use only male rodents for experimentation, perhaps based on the idea that female animals lead to greater variability in results. In fact, studies have shown that male mice and rats are not less variable than female animals in behavioral, electrophysiological, histological, or neurochemical measures.
Though it is often thought that including both male and female animals is less economical and takes more time, certain statistical techniques allow researchers to maximize the power of an experiment that uses both sexes of animals without adding more animals.
Choosing analytical and statistical methods that are appropriate to a particular experiment is essential and has potential to lead to new ideas about how neural circuitry, development, and the mechanisms underlying animal behavior vary between the sexes.
Ultimately, a greater understanding of sex differences in animal models could form the basis for future translational research and therapies. It is thus important that investigators continue to consider sex differences in neuroscience research.