Targeted DamID as a Tool for Studying Cell-Specific Transcription and Neural Epigenetics
In this video, Tony Southall explains how the targeted DamID technique can be used to study gene expression and epigenetics in the developing and adult nervous systems.
Speaker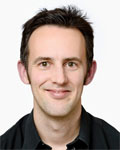 Tony Southall, PhD
Tony Southall is a senior lecturer at Imperial College London. Southhall previously worked as a postdoctoral researcher in the lab of Andrea Brand at the University of Cambridge. He earned his BSc in genetics from the University of Nottingham and his PhD in calcium signaling from the University of Glasgow. His research focuses on the development of the brain, in particular the transcriptional and epigenetic programs that drive the differentiation and maturation of neurons.